Coffee Marinated Sirloin Strip Steaks
by
, May 5, 2017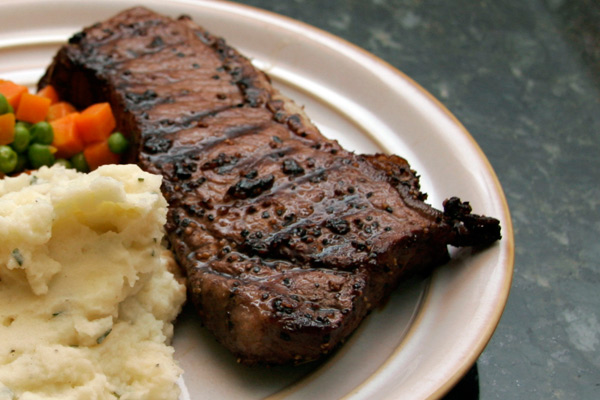 These flavorful sirloin strip steaks area marinated in a combination of coffee, red wine, and seasonings. Grill or broil these fabulous steaks.
Prep Time: 12 minutes
Cook Time: 12 minutes
Total Time: 24 minutes
Ingredients:
Instructions:
Place the steaks in a zip-close food storage bag or nonreactive container with a lid.
In a bowl, combine the wine, coffee, olive oil, brown sugar, mustard, Worcestershire sauce, garlic powder, salt, rosemary, and thyme. Pour the mixture over the steaks and turn the bag to coat the steaks thoroughly.
Seal the bag or container and refrigerate for 3 to 4 hours.
Oil the grill grate or rack of the broiler pan with some olive oil. Preheat the grill or broiler. If you are using the broiler, place the pan in to preheat.
Take steaks out of the marinade, letting the excess drip back into the bag. Discard the marinade.
Sprinkle the strip steaks with the cracked pepper, as desired.
Place the steaks on the broiler rack or the hot oiled grill. Broil or grill for about 4 to 6 minutes on each side, or until done as desired.
According to the USDA, the minimum safe temperature for beef is 145 F.
Makes 4 Servings
Site Search