Whoopie Pies With Coconut Pecan Filling
by
, April 28, 2017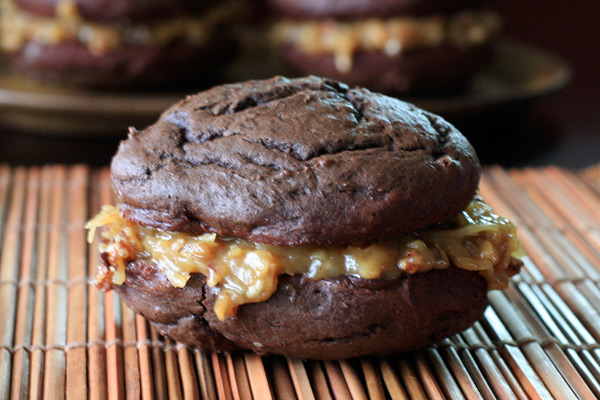 A coconut pecan filling makes these whoopie pies a very special treat. I made a dozen large whoopie pies with the recipe, but you could make twice as many small ones.
Prep Time: 20 minutes
Cook Time: 15 minutes
Total Time: 35 minutes
Ingredients:
Instructions:
Heat oven to 350 F
Grease and flour two large baking sheets or line them with parchment paper. Or grease and flour two 6-cup muffin top pans.
In a mixing bowl with an electric mixer, cream the 4 ounces of butter with 1 cup of brown sugar until smooth and creamy. Add the whole egg and 2 teaspoons of vanilla; beat until blended.
In a separate bowl, combine the flour, cocoa, baking soda, and salt.
Add about one-third of the dry mixture to the creamed mixture, along with half of the buttermilk. Beat until blended. Add another one-third of the flour mixture to the batter, along with the remaining buttermilk. Beat until blended. Blend in the remaining one-third of the flour mixture until batter is smooth.
Drop the batter onto the prepared baking sheet or muffin top pan, about 1/4-cup at a time, leaving about 2 inches between the mounds. Bake for about 14 to 16 minutes, until the cakes spring back when lightly touched. Transfer the cakes to a rack to cool completely.
Filling
In a small bowl, whisk the 3 egg yolks. Set aside.
In a medium saucepan over medium heat, combine the evaporated milk, 1/2 cup of brown sugar, the granulated sugar, 4 ounces of butter, and 1 teaspoon of vanilla. Bring the mixture to a full boil, stirring constantly. Remove from heat.
Quickly whisk a small amount of the hot liquid (about 1/3 to 1/2 cup) into the beaten yolks.
Return yolk mixture to the hot mixture in the saucepan and blend well. Return the pan to the heat and bring to a boil, stirring constantly. Lower heat to medium-low and boil gently, stirring constantly, for 1 minute.
Remove from heat and stir in the coconut and pecans.
Cool, stirring frequently, until the mixture thickens to a spreading consistency.
When the filling is thick and spreadable, spread a generous amount on the bottom (flat side) of on of the cooled cake. Place another cake on the first one to make a whoopie pie.
The recipe makes 1 dozen large whoopie pies -- more if you make them small.
24 Servings (1/2 Whoopie Pie)
Site Search