Coconut Curry Chicken Breasts
by
, July 18, 2017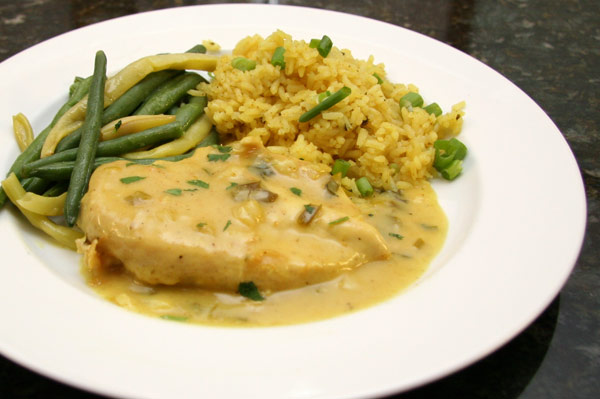 Thick coconut cream and curry powder team up in this easy chicken breast recipe. The chicken is browned and then cooked in the wonderful cream of coconut mixture. Garnish the chicken with parsley or cilantro and some sliced green onion tops. If you prefer a less sweet sauce, use unsweetened coconut cream or the thick part of canned coconut milk.
Related:
Top 24 Easy Chicken Recipes
Prep Time: 12 minutes
Cook Time: 24 minutes
Total Time: 36 minutes
Ingredients:
Instructions:
In a medium saucepan over medium heat, melt the butter with 2 tablespoons olive oil. Add white and light green parts of the scallions and the minced garlic; saute for about 2 minutes.
Stir the flour into the onion and garlic mixture; cook, for 2 minutes, stirring constantly. Add the chicken broth and cream of coconut; blend well. Add the curry powder. Continue cooking until thickened and bubbly; set aside.
In a large skillet over medium-high heat, cook the chicken breasts in 2 tablespoons of olive oil until chicken is browned on both sides, about 4 to 6 minutes. Pour off any excess fat.
Add the sauce mixture and bring to a simmer. Reduce heat to low, cover, and cook for about 10 to 15 minutes, or until chicken reaches 165 F. Stir in the milk and most of the reserved green sliced scallion tops and continue cooking until hot.
Sprinkle with any remaining sliced scallion tops and fresh chopped parsley or cilantro, if desired.
What is Cream of Coconut?
Cream of coconut is a thick, sweetened coconut cream that is often used in cocktails. You will find it near other cocktail mixing items in the grocery store or liquor store.

Makes 4 Servings
Site Search