Clam and Corn Chowder
Updated July 1, 2017 by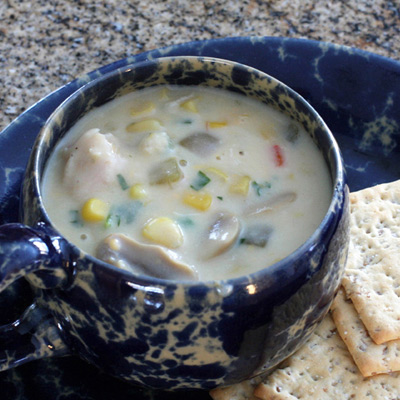 This easy clam chowder includes cream-style corn, diced potatoes, and some bacon. I use evaporated milk, but half-and-half or light cream may be substituted.



Prep Time: 15 minutes
Cook Time: 30 minutes
Total Time: 45 minutes

Ingredients:


Instructions:
Brown bacon in a heavy skillet over medium heat. Remove bacon with a slotted spoon and drain on paper towels; crumble and set aside.
To the hot bacon drippings, add chopped yellow onion, clam juice, minced clams, potatoes, and water; bring to a boil. Reduce heat to low and simmer until potatoes are tender.
Add butter, milk, green onions, cream style corn, and salt and pepper to taste; heat almost to boiling point.
Sprinkle crumbled bacon over each serving.
If thicker soup is desired, make a flour paste by combining 2 tablespoons flour with a little cold water and add to the soup; cook until thickened.
Clam chowder recipe makes 6 servings.
Site Search







©2017 Classic-Recipes.com