Rich Make-Ahead Cinnamon Rolls
by
, July 10, 2017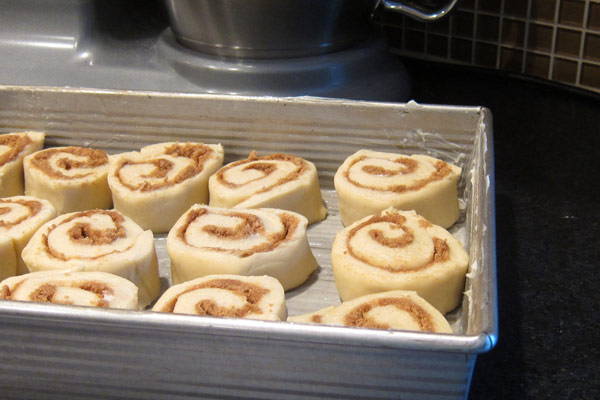 These cinnamon rolls are made with a rich, brioche-style dough which includes an egg and butter. These are very special cinnamon rolls, perfect for a holiday morning with extended family. The cream cheese icing makes a fabulous topping.

The dough is kneaded with a stand mixer with a dough hook attachment. The dough is mixed the day before and refrigerated overnight.
Prep Time: 40 minutes
Cook Time: 30 minutes
Total Time: 1 hour 10 minutes
Ingredients:
Cinnamon Roll Dough
Filling
Cream Cheese Icing
Instructions:
In the mixing bowl of a stand mixer, combine the instant yeast with the lukewarm water. Let stand for 5 minutes. Add the dry milk powder, bread flour, all-purpose flour, granulated sugar, 2 teaspoons of vanilla, baking powder, salt, and egg. Mix with the dough hook attachment until the dough comes together and begins to climb up the dough hook. Knead with the machine for 3 minutes. Add the 7 tablespoons of butter, a few tablespoons at a time. It will take several minutes to incorporate the butter. When the butter has incorporated fully into the dough, continue kneading, adding enough flour to the dough to coax the mixture off the sides of the bowl. Knead for about 6 minutes longer, until smooth and shiny.
Line a 9-by-13-by-2-inch baking pan with parchment paper. Press the dough into the pan. Cover with plastic wrap and let rest at room temperature for 45 minutes. Refrigerate overnight.
In the morning, butter a 9-by-13-by-2-inch baking pan.
Remove the dough from the refrigerator and let it stand at room temperature for 10 minutes.
In a bowl, combine the brown sugar and cinnamon.
Roll the dough out lightly to an even rectangle about 15 inches in length. Spread the 6 tablespoons of softened butter over the dough to within about 1/2 inch along the long ends.
Sprinkle with the brown sugar and cinnamon mixture. Starting at a long end, roll up. Cut into 12 pieces, about 1 inch or slightly more in width. Place the slices in the prepared baking pan. You may cover the pan with foil and freeze for up to 1 month or continue with the baking.
If the rolls were frozen, take them out of the freezer about 1 1/2 hours before you plan to bake them.
Preheat the oven to 350 F.
Bake the cinnamon rolls for about 25 to 35 minutes, or until golden brown.
In a mixing bowl with an electric mixer, combine the cream cheese, 1 tablespoon of butter, powdered sugar, 1/2 teaspoon of vanilla. Beat until smooth, adding just enough milk to make the mixture the right consistency for spreading or drizzling.
Spread or drizzle icing over the warm cinnamon rolls.
Makes 1 dozen cinnamon rolls.
Makes 12 Servings
Site Search