Easy Chutney Chicken Breasts
by
, June 24, 2017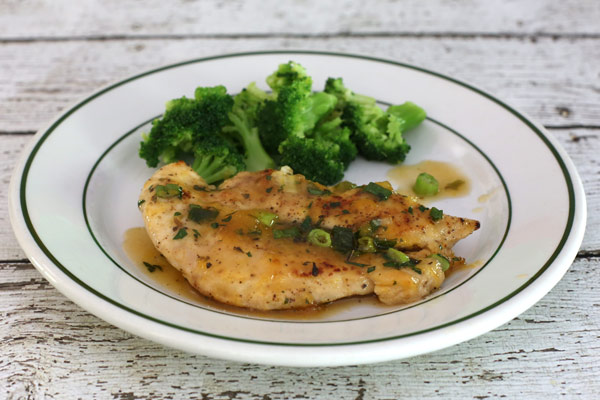 Use chicken breast halves or cutlets, depending on size. This is a simple combination of ingredients. The chicken is cooked in the skillet with a flavorful chutney sauce. Adjust the cooking time for very thin cutlets or thicker chicken breast halves.

An instant-read thermometer will register at least 165 F when the chicken is cooked.
Related:
Top 24 Easy Chicken Recipes
Prep Time: 12 minutes
Cook Time: 15 minutes
Total Time: 27 minutes
Ingredients:
Instructions:
In a large skillet or saute pan, heat the olive oil over medium-high heat.
For small chicken breasts (4 to 6 ounces), gently pound with the smooth side of a meat tenderizer to flatten slightly. Slice larger chicken breasts horizontally to make two cutlets and flatten just enough to make them uniform in thickness.
Sprinkle the chicken lightly with kosher salt and freshly ground black pepper; dust the chicken with the flour.
When the oil is hot, arrange the chicken pieces in the skillet and cook for about 3 minutes on each side, or until nicely browned.
Combine the chutney, chicken broth, garlic powder, and basil. Pour over the chicken.
Cover the pan, reduce heat to low, and cook for 6 to 8 minutes, or until chicken is cooked through.
Meanwhile, slice the green onions, reserving a few tablespoons of the green tops for garnish.
Add all but the reserved 2 tablespoons of green onions and cook for 1 minute longer.
Arrange the chicken on a serving platter or individual plates. Spoon sauce over each chicken breast and garnish with some of the reserved sliced green onion tops.
Makes 4 Servings
Site Search