Chopped Salad With Chicken, Ham, and a Simple Vinaigrette
by
, October 28, 2017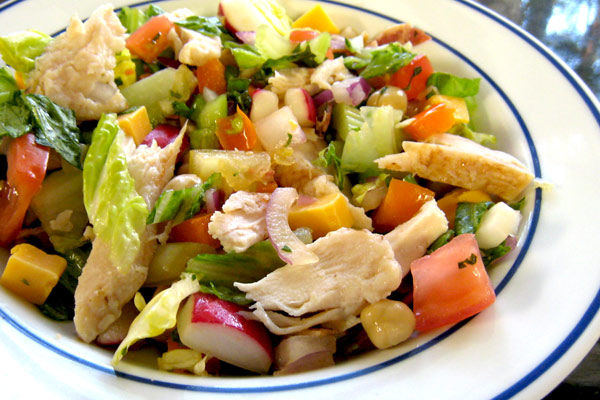 Diced chicken, ham, and cheese make this chopped salad hearty enough to be served as a main dish. Serve it with the included vinaigrette or your favorite purchased dressing.
Related:
Beet Salad With Lemon Vinaigrette
Rotini and Ham Pasta Salad
Prep Time: 20 minutes
Cook Time: 0 minutes
Total Time: 20 minutes
Ingredients:
Salad
Vinaigrette
Instructions:
In a large serving bowl, combine the lettuce, bell pepper, tomato, radish, celery, onion, basil, garlic, ham, chickpeas, chicken, and cheese.
In another bowl, combine the vinaigrette ingredients. Toss some with the salad or offer it on the side.
Makes 8 servings.
Site Search