Chocolate Crackle Cookies
by
, September 8, 2017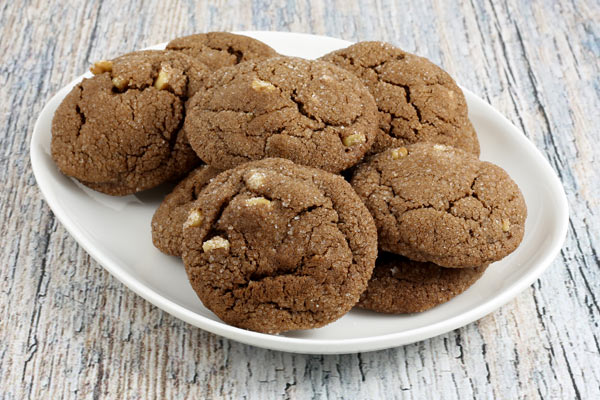 Some optional coffee or espresso powder intensifies the chocolate flavor in these chewy chocolate crackle cookies. The cookies are filled with chopped walnuts, but hazelnuts or pecans may be substituted. Or leave the nuts out altogether. The crackled look comes from the sugar coating.
Related:
Easy Chocolate Meringue Cookies
Prep Time: 10 minutes
Cook Time: 13 minutes
Total Time: 23 minutes
Ingredients:
Instructions:
Grease baking sheets lightly or line with parchment paper.
In a mixing bowl with an electric mixer, combine the brown sugar and butter; beat until light and fluffy. Beat in the egg and vanilla. Beat in the cooled melted chocolate.
In a separate bowl combine the flour, cream of tartar, soda, salt and espresso powder, if using; mix well. Add the dry ingredients to the creamed mixture and stir until well blended. Fold in the walnuts.
Chill dough until firm.
Preheat the oven to 375 F.
Grease baking sheets lightly or line with parchment paper.
Put the 2 tablespoons of granulated sugar in a bowl. Shape dough into 1-inch balls and roll in the sugar. Arrange the cookies on the prepared baking sheet.
Bake the cookies for 12 to 15 minutes, or until firm.
Makes about 3 dozen cookies, depending on size.
36 servings.
Site Search