Easy Chocolate Waffles
by
, September 13, 2017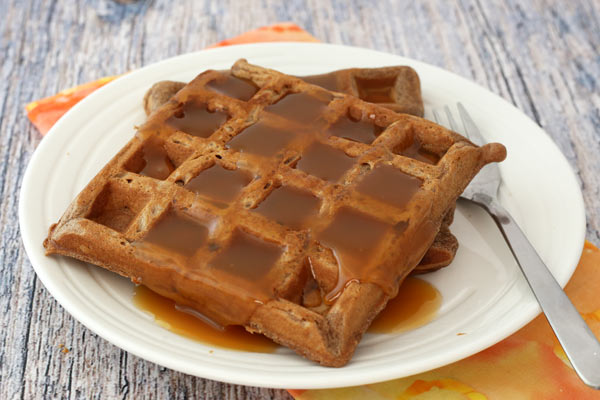 These waffles take just minutes to fix, and they make a fabulous breakfast or dessert with caramel sauce (pictured) or hot fudge sauce. They would be great with ice cream as well. Alternatively, top them off with a dollop of whipped cream and a maraschino cherry!
These waffles would make a nice holiday or birthday breakfast. The kids will love them!
Make two or three batches and freeze them.
Related:
Buttermilk Waffles With Variations
Sour Cream Waffles
Prep Time: 10 minutes
Cook Time: 8 minutes
Total Time: 18 minutes
Ingredients:
Instructions:
Turn the waffle iron to medium heat setting and preheat.
Melt the butter and chocolate together in a bowl over simmering water or in the microwave. Set aside.
In a bowl, combine the flour, salt, sugar, and baking powder.
In another bowl, whisk the egg with the milk and vanilla. Add the chocolate and butter mixture and blend well.
Add the chocolate mixture to the dry ingredients; mix well.
Bake in the hot waffle iron for about 3 to 4 minutes. Serve waffles with whipped cream or ice cream and chocolate fudge sauce or caramel sauce.
Makes 4 servings.
Site Search