Chocolate Sponge Cake
by
, April 15, 2017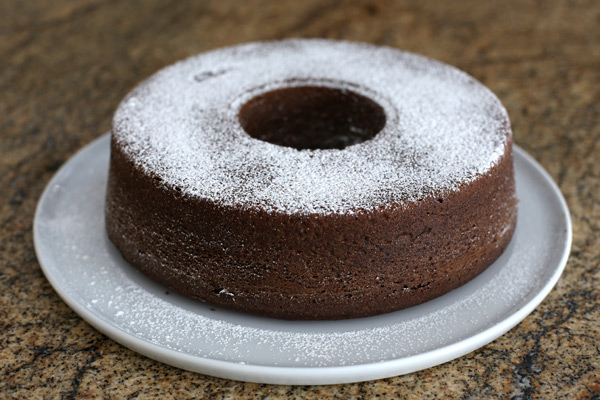 This airy chocolate sponge cake is light and flavorful. Split the cake and fill it with preserves or dust it with powdered sugar and drizzle servings with warm chocolate sauce or jam.
Prep Time: 15 minutes
Cook Time: 35 minutes
Total Time: 50 minutes
Ingredients:
Instructions:
Heat oven to 375 F.
In a mixing bowl, combine the cake flour, cocoa, baking powder, and 1 cup of the granulated sugar. Stir or whisk to blend thoroughly.
In another mixing bowl (not plastic), beat the egg whites with salt and cream of tartar until soft peaks form. Gradually add the remaining 1/2 cup of granulated sugar and continue beating to stiff peaks.
In a small bowl, whisk together the egg yolks, water, and vanilla; add to the flour mixture and beat just until blended.
With a spatula, gently fold the egg yolk mixture into the stiff beaten egg white mixture.
Spoon the batter into an ungreased 10-inch tube cake pan and bake for about 35 minutes. Cool in pan.
Remove from the pan and top with the glaze of your choice or dust with powdered sugar.
Or split the cake and fill with jam or preserves.
12 Servings
Site Search