Chocolate Mint Brownies
by
, May 18, 2017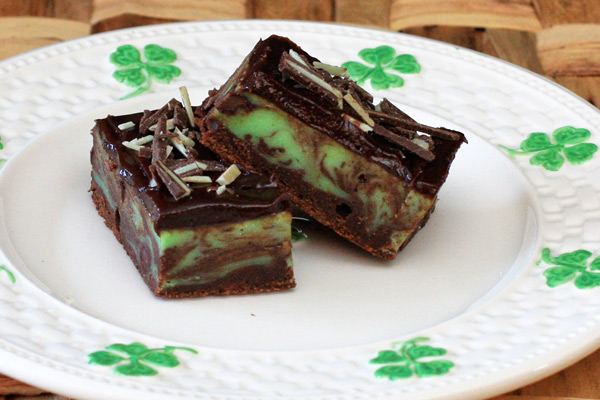 These brownies are made with a mint-flavored cream cheese swirl through the batter and chocolate ganache.
Prep Time: 15 minutes
Cook Time: 25 minutes
Total Time: 40 minutes
Ingredients:
Chocolate Batter
Cream Cheese Mint Batter
Ganache
Instructions:
Heat oven to 350 F.
Grease and flour an 8-inch square baking pan.
In a saucepan over medium-low heat, melt the 4 ounces of chocolate with 4 tablespoons butter. Let the mixture cool to room temperature.
In a bowl, whisk 2 eggs with 1/4 cup of sugar. Add the egg mixture to the cooled chocolate and whisk to blend. Stir in 1/2 cup flour and chocolate chips. Spread the batter in prepared baking pan.
In a mixing bowl with an electric mixer, beat the cream cheese with 1/4 cup sugar, the liqueur, 1 egg, 3 tablespoons flour, and flavoring, if using. Beat until smooth and creamy. Spoon over the chocolate layer and gently swirl through the chocolate batter.
Bake the brownies for 25 to 30 minutes, or until a toothpick inserted into the center comes out clean. Cool completely.
Meanwhile, prepare the ganache. Put the 3/4 cup of chocolate chips in a bowl and set aside. Put the heavy cream and 2 teaspoons of butter in a saucepan and place over medium-low heat. Bring the mixture to a simmer. Pour the hot cream mixture over the chocolate chips in the bowl and stir until the chocolate has melted. Continue stirring until thickened and smooth. Stir in the vanilla and let the chocolate cool slightly.
Spread the ganache over the cooled brownies.
Makes 16 Servings
Site Search