Rich and Creamy Chocolate Ice Cream
by
, July 11, 2017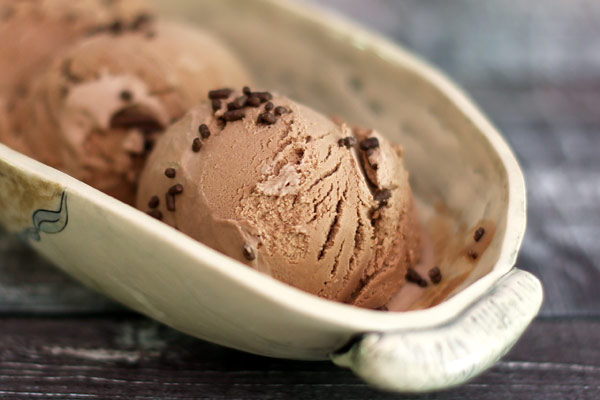 This chocolate ice cream is made rich and creamy with the egg yolks and heavy cream. Add the mini semisweet chocolate chips or other ingredients. Brickle chips, chopped nuts, or bits of edible cookie dough are excellent additions.
Prep Time: 10 minutes
Cook Time: 0 minutes
Total Time: 10 minutes
Ingredients:
Instructions:
In a medium saucepan over medium-low heat, combine the chocolate with the heavy cream, granulated sugar, and milk. Cook, stirring, until the mixture is hot and sugar has dissolved. Do not let the mixture boil.
Whisk the eggs in a small bowl and then whisk in about 1 cup of the hot mixture. Return the egg mixture to the saucepan and continue cooking over low heat, stirring, until the mixture coats a spoon or reaches a temperature of about 170 F to 180 F. Cover and chill thoroughly.
Freeze the chilled custard in an ice cream freezer, following the manufacturer's directions.
Pack the ice cream into a container; cover and freeze.
Makes About 6 Servings
Site Search