Brown Sugar Walnut Squares With Chocolate Chips
by
, January 29, 2018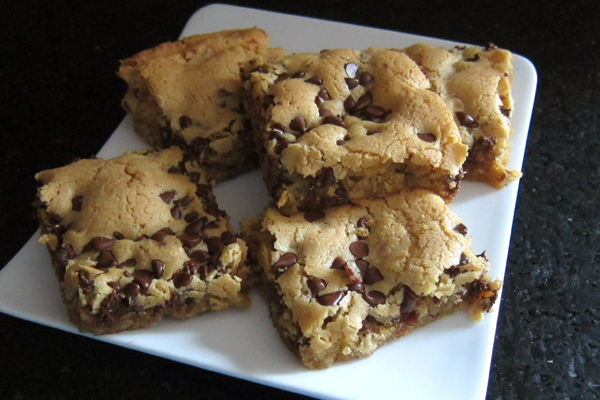 These walnut bars are finished with a sprinkling of mini chocolate chips. The recipe makes a big half-sheet pan of bars, making them perfect for a party or gathering.
Related:
Basic Blondies
Prep Time: 10 minutes
Cook Time: 30 minutes
Total Time: 40 minutes
Ingredients:
Instructions:
Preheat the oven to 325 F.
Grease and flour an 18-by-13-inch half sheet pan.
In a bowl, combine the flour, baking powder, and salt. Stir with a spoon or whisk to blend; set aside.
In a large mixing bowl with electric mixer, beat the butter and sugar until light, about 3 minutes.
Add the eggs, one at a time, beating well after each addition.
Beat in the vanilla extract.
Gradually add the flour mixture to the butter and sugar mixture, beating on low speed just until blended.
Fold in the chopped walnuts.
Spread the batter in the prepared baking pan and sprinkle mini chocolate chips over the top of the batter.
Bake for about 30 minutes, or until nicely browned and firm.
Makes 36 servings.
Site Search