Chili Con Carne With Pinto Beans
by
, May 13, 2017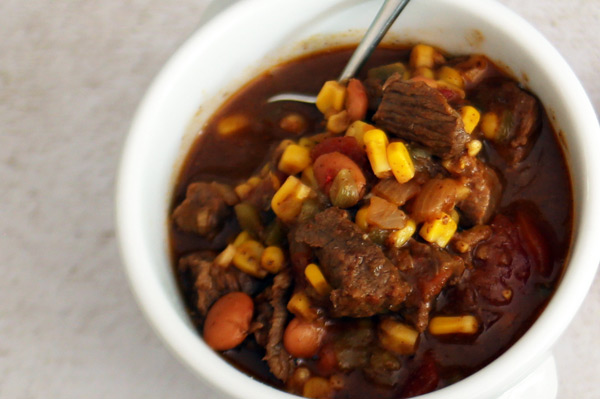 This beef and bean chili is a meaty chili your family will love. The ingredients include stewing beef, canned pinto beans, garlic, and seasonings. It's a great chili for anyone who prefers a chili with no tomatoes. Add a can of diced tomatoes if you like.
Prep Time: 20 minutes
Cook Time: 2 hours
Total Time: 2 hours 20 minutes
Ingredients:
Instructions:
In a saucepan over medium heat, simmer the dried peppers in 1 cup water for 10 to 15 minutes, or until softened; drain and cool peppers. Cut the peppers open and remove seeds and membranes. Finely chop the peppers (I recommend gloves when handling chile peppers) and set aside.
Heat the vegetable oil in a large skillet; add the meat and cook while stirring until browned. Add onions and garlic; cook until tender. Add 2 cups of water, salt, pepper, cumin, chili powder, and the diced red peppers. Cover and simmer for 2 hours, or until beef is very tender.
Add the corn and continue cooking for about 15 minutes.
Heat beans in a separate saucepan.
To serve, spoon beans into a bowl and top with meat mixture. Or, add beans to meat mixture near the end of cooking.
Makes 8 Servings
Site Search