Easy Skillet Chicken With Tomatoes
Updated July 1, 2017 by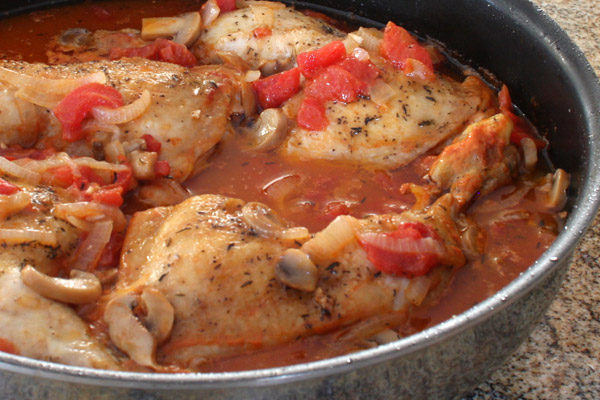 This budget-friendly chicken dish makes a tasty meal with pasta, rice, or potatoes. It's an easy preparation and full of flavor.
Related:
Top 24 Easy Chicken Recipes
Prep Time: 15 minutes
Cook Time: 1 hour
Total Time: 1 hour 15 minutes
Ingredients:
Instructions:
Season the chicken parts with salt and pepper.
In a Dutch oven or large saucepan, Heat the olive oil over medium heat. Brown the chicken pieces , turning frequently, until golden brown. Remove the chicken and pour off all but 1 tablespoon of vegetable oil. Add the mushrooms and cook until golden brown. Remove to a plate and set aside. Add the onion to the pan and cook, stirring, for about 3 to 5 minutes, until lightly browned. Add the garlic and thyme and cook for 1 minute longer.
Add the chicken back to the pan.
Add the chicken broth; cover and simmer for 20 minutes. Add the tomatoes and wine and simmer, uncovered, for 30 minutes longer, or until chicken is tender.
Makes 4 to 6 Servings
Site Search