Chicken Breasts With Curry Sauce
Updated July 1, 2017 by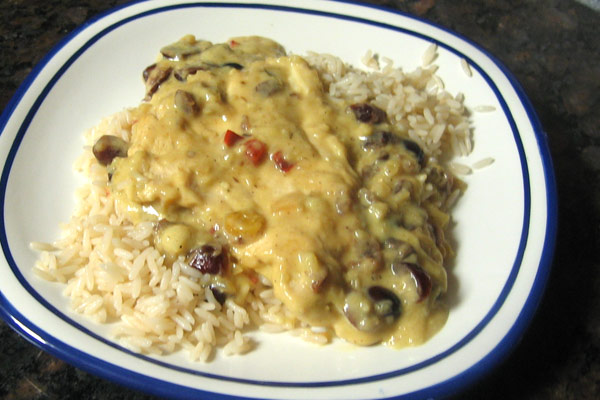 Apples, dried cranberries, and a small amount of mango chutney are added to the creamy sauce. The chicken breasts are browned and then simmered in the lightly spiced sauce.
Related:
Top 24 Easy Chicken Recipes
Prep Time: 12 minutes
Cook Time: 15 minutes
Total Time: 27 minutes
Ingredients:
Instructions:
Put a chicken breast between pieces of plastic wrap and gently pound with the smooth side of meat mallet or rolling pin until slightly thinned and uniform in thickness. Alternatively, you may use thinly sliced cutlets in the recipe.
Melt 3 tablespoons of butter in a skillet over medium-low heat. Add the curry powder, apple, and onion to the skillet and cook until tender, stirring frequently. Remove to a bowl.
Add 2 more tablespoons butter to the skillet; add chicken, increase temperature to medium, and saute for about 8 minutes, or until browned on both sides. Remove chicken breast halves to a plate and set aside.
Stir the flour into butter mixture until smooth; cook for 2 minutes, stirring constantly. Add the chicken broth. Stir in the milk or half-and-half until thickened. Add the apple mixture back to skillet; stir in cranberries and chutney. Add more milk if needed to thin the sauce. Taste and add more curry powder, salt, and pepper, as needed. Add the browned chicken pieces to the sauce; cover and simmer for 10 to 15 minutes.
Serve with hot cooked rice.
Makes 4 to 6 Servings
Site Search