Chicken With Basil Cream Sauce
by
, July 17, 2017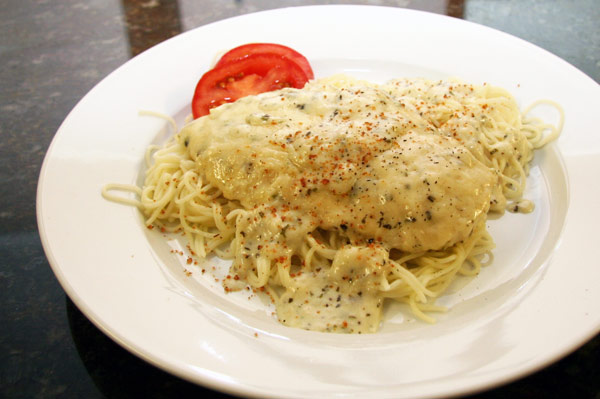 The creamy basil and Parmesan cheese sauce is the perfect finishing sauce for these easy skillet chicken breasts. Serve the chicken with the sauce over hot cooked angel hair pasta or spaghetti.
Related:
Top 24 Easy Chicken Recipes
Prep Time: 12 minutes
Cook Time: 18 minutes
Total Time: 30 minutes
Ingredients:
Instructions:
Put the chicken breasts between sheets of plastic wrap and gently flatten to an even thickness. Season the chicken breasts with kosher salt and freshly ground black pepper. Put the flour in a shallow bowl and dredge the chicken pieces to coat.
Heat the olive oil and butter in a large skillet over medium heat. Add chicken breasts and brown for about 3 minutes on each side.
Add the basil, parsley, garlic, and chicken broth; bring to a boil. Reduce heat to low and simmer, uncovered, for 3 minutes.
Cover and simmer for about 8 to 10 minutes longer, or until chicken breasts reach 165 F (if the chicken breasts are very thin, they will take less time).
Stir in the cream and Parmesan cheese and cook for about 1 to 2 minutes longer, or until hot.
Serve with hot cooked pasta and extra Parmesan cheese.
Makes 4 Servings
Site Search