Best-Ever Chicken Tortilla Soup
by
, July 2, 2017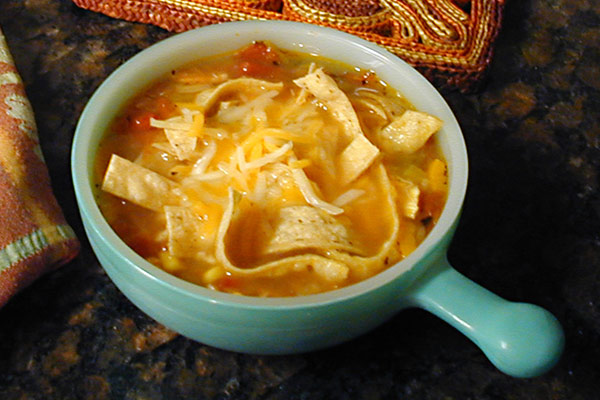 This popular tortilla soup is made with a pureed mixture of tomatoes, cilantro, peppers, garlic, and onions. Add chicken and top it off with fried tortilla strips and your favorite garnishes. It's perfect for a potluck or family meal. Or take it along to a tailgating party or game day gathering.

If you like a chunkier soup with more vegetables, feel free to add some corn or drained and rinsed black beans to the soup.
Related:
Top 24 Easy Chicken Recipes
Prep Time: 15 minutes
Cook Time: 70 minutes
Total Time: 1 hour 25 minutes
Ingredients:
Instructions:
Put the garlic, onion, chile peppers, tomatoes, and cilantro in a food processor or blender. Process until smooth.
Heat the chicken stock and add pureed mixture along with the cumin and 1 teaspoon of salt. Bring to a boil, reduce heat, and simmer for about 1 hour. Stir cornstarch and water mixture into the soup.
Add the chopped chicken to the soup and heat through.
Meanwhile, fry the tortilla strips in vegetable oil until crisp; drain well.
Garnish with the optional toppings and fried tortilla strips.
Makes 6 Servings
Site Search