Chicken Stew With Soft Drop Dumplings
by
, September 6, 2017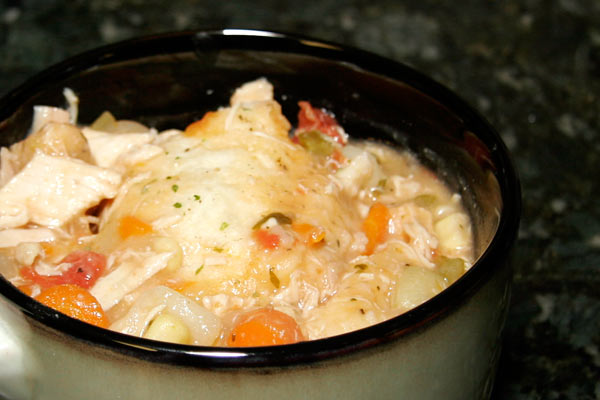 This thick and comforting chicken stew is finished with fluffy dumplings. It's a delicious simmered stew. If you are starting with diced cooked chicken instead of chicken parts, skip the first 2 steps and use 5 cups of low sodium or unsalted chicken stock to boil the vegetables. Season the stock to taste with salt and pepper or a seasoned salt blend.

Feel free to skip the dumplings and serve the stew with freshly baked biscuits.
Related:
Chicken Stew With Cornmeal Dumplings
Top 24 Easy Chicken Recipes
Prep Time: 15 minutes
Cook Time: 2 hours
Total Time: 2 hours 15 minutes
Ingredients:
Dumplings
Instructions:
Place the chicken in a large stockpot or Dutch oven; add the chicken broth and enough water to cover. Add the thyme, onion powder, salt, and pepper. Bring to a boil; reduce heat, cover, and simmer for about 1 hour, or until chicken is tender.
Remove the chicken to a bowl to cool slightly. Strain the broth and reserve 5 cups. Remove chicken meat from the bones and dice.
In the same pan, bring the 5 cups of reserved strained broth to a boil; reduce heat to medium low. Add the carrots, lima beans, potato, onion, and celery; cook for 30 minutes, or until vegetables are tender. Add the diced chicken, corn, parsley, and tomatoes and simmer over low heat for 10 to 15 minutes longer.
Meanwhile, prepare the dumplings. Combine 1 1/2 cups of flour with the baking powder and 1/2 teaspoon of salt. Cut in the butter until the mixture resembles coarse meal. Add milk and stir with a fork to make a thick, soft dough.
In a cup, combine 3 tablespoons of flour with 3 to 4 tablespoons of cold water; stir until smooth.
Add the flour and water mixture to the simmering stew mixture and stir well.
Using a tablespoon, drop dumpling dough onto simmering stew. Cook for 5 minutes; stir carefully from time to time.
Cover and simmer over low heat for about 10 to 12 minutes longer, or until dumplings are cooked through, again stirring carefully occasionally to prevent scorching.
If desired, sprinkle dumplings with fresh chopped parsley before serving.
4 to 6 servings.
Site Search