Chicken, Sausage, and Penne Pasta Casserole
by
, May 21, 2017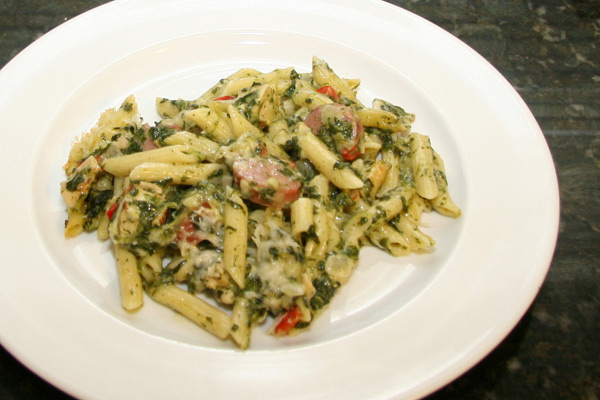 This hearty casserole will be an instant hit! The casserole is a delicious one-dish meal. Make it for your family or take it along to a potluck supper.
Prep Time: 20 minutes
Cook Time: 35 minutes
Total Time: 55 minutes
Ingredients:
Instructions:
Cook the pasta following the package directions. Drain and set aside.
Heat oven to 350 F.
Grease a 2 1/2-quart baking dish.
In a saucepan, heat the olive oil and butter; add onion, red bell pepper, and sausage. Cook until the onion is translucent and the sausage is lightly browned. Stir in the garlic and chicken; cook for 1 minute longer. Stir in the flour until blended. Cook for 2 minutes, stirring constantly. Add the chicken broth and cook until thickened, stirring constantly. Add the cream, spinach, basil, Cajun seasoning, and salt and pepper, to taste. Stir in 1/2 cup of the Parmesan cheese and the mozzarella cheese; heat through. Combine the sauce and vegetable mixture with the pasta; spoon into the prepared baking dish.
Top with remaining 1/4 cup of Parmesan cheese and bake for 25 to 35 minutes, until hot and bubbly.
Makes 6 Servings
Site Search