Chicken Pot Pie With Puff Pastry Crust
Updated July 1, 2017 by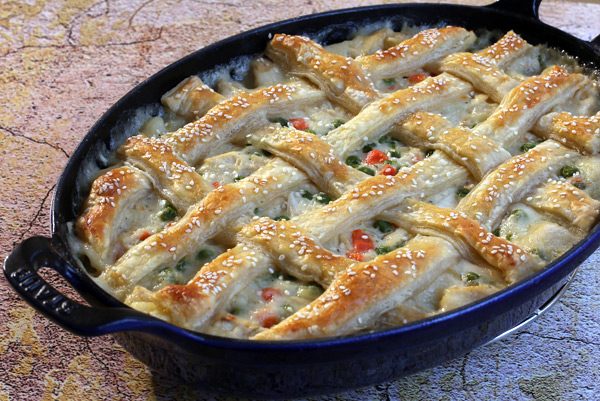 An easy puff pastry lattice crust tops this savory chicken pot pie. The chicken pie includes some diced potatoes and peas and carrots, along with a creamy filling.
Prep Time: 30 minutes
Cook Time: 1 hour
Total Time: 1 hour 30 minutes
Ingredients:
Instructions:
Place the chicken breasts in a medium saucepan and cover with the chicken broth. Add the chicken bouillon cubes or equivalent base, a bay leaf, chopped garlic, and thyme. Bring to a boil. Cover, reduce heat, and simmer for about 15 minutes, or until the chicken is cooked through and no longer pink in the center. Place a colander or sieve over a bowl and strain, reserving the broth.
Dice the chicken and put it in a bowl. Cover and refrigerate.
Put the potatoes in a small saucepan and cover with water. Add 1/2 teaspoon of salt. Bring to a boil over medium high heat. Cover, reduce heat to low, and simmer for about 10 minutes, or until the potatoes are just tender. Add the peas and carrots or mixed vegetables and cook for 1 minute longer. Drain and set aside.
In a medium saucepan over medium heat, melt the butter. Add the chopped onion and saute until the onion is translucent. Add the flour and cook, stirring, for 2 minutes. Gradually add the reserved chicken broth. Continue cooking, stirring, until thickened. Add the heavy cream, the reserved cooked vegetables, and the diced chicken. Cook, stirring gently, until hot. Taste and add salt and freshly ground black pepper, as needed.
Pour the filling mixture into a 2- to 2 1/2-quart baking dish and let it cool while you prepare the pastry.
Thaw the puff pastry following package directions.
Heat the oven to 375 F.
Cut the puff pastry into long strips and lay on a parchment-lined baking sheet. Put the baking sheet in the freezer for about 5 minutes, or until very cold but still flexible.
Arrange the strips over the pie filling, weaving to form a lattice crust.
Whisk the egg with 1 tablespoon of water and then brush it over the strips. Sprinkle sesame seeds over the pastry strips.
Bake for 30 to 40 minutes, until the pastry is golden brown and the filling is bubbly.
5 to 6 Servings
Site Search