Chicken Pie With Easy Lattice Crust
by
, May 20, 2017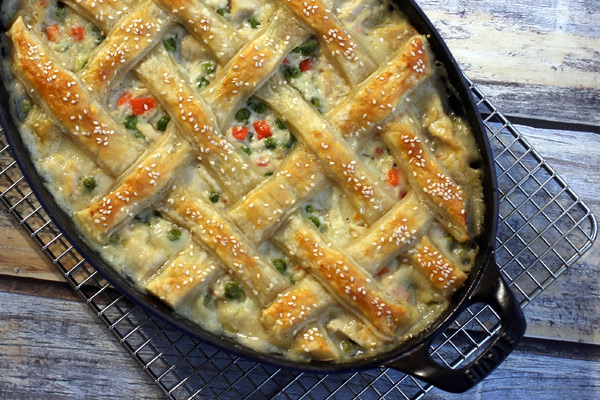 Puff pastry is full of butter and softens very quickly, so the strips are chilled in the freezer before they are placed on the cooled pie filling.
Related:
Top 24 Easy Chicken Recipes
Prep Time: 25 minutes
Cook Time: 45 minutes
Total Time:1 hour 10 minutes
Ingredients:
Instructions:
In a large saucepan over medium heat, melt the butter. Add the chopped onion and cook until the onion is translucent. Add the flour and cook, stirring, for 2 minutes. Gradually add the chicken broth. Continue cooking, until thickened, stirring constantly. Add the heavy cream, the cooked vegetables, and the diced cooked chicken. Cook, stirring, for 2 to 3 minutes. Taste and add salt and pepper, as needed.
Transfer the filling mixture to a 2 1/2-quart baking dish and let cool.
Thaw the puff pastry following package directions.Heat the oven to 375 F . Cut the puff pastry into long strips and lay on a parchment-lined baking sheet. Put in the freezer for about 5 to 10 minutes, or until very cold and firm but still flexible.
Arrange the strips over the pie filling, weaving to form a lattice crust.
Whisk the egg with 2 teaspoons of water. Brush over the strips. Sprinkle the pastry strips with sesame seeds.
Bake the chicken pie for 30 to 40 minutes, until the pastry is golden brown and the filling is bubbly.
Makes 6 Servings
Site Search