Double Crust Chicken Pot Pie
by
, May 20, 2017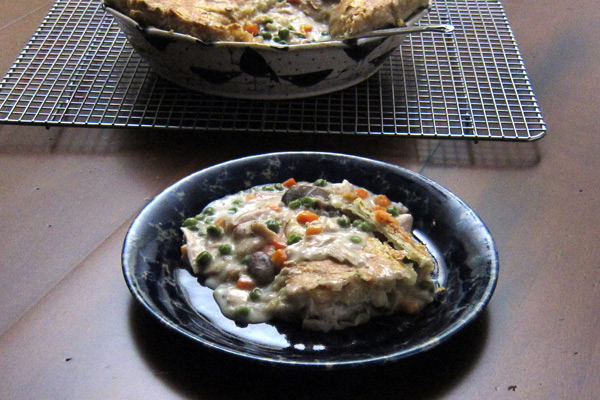 The herb crust makes this 2-crust chicken pie truly special, and the creamy chicken filling is an easy preparation. If you prefer a one-crust pie, make half of the pastry and use it to top the pie filling.
Related:
Top 24 Easy Chicken Recipes
Prep Time: 30 minutes
Cook Time: 1 hour 15 minutes
Total Time:1 hour 45 minutes
Ingredients:
Pastry
Filling
Egg Wash
Instructions:
In a food processor, pulse the 12 1/2 ounces of flour with 1/2 teaspoon of salt, parsley leaves, thyme, and rosemary until blended. Add the pieces of chilled butter (8 ounces) and pulse just until the mixture looks like crumbs and there are still pieces of butter about the size of small peas. Transfer to a large bowl. Drizzle with 6 tablespoons of the ice water and mix lightly to moisten. Add more chilled water, a few teaspoons at a time, until the dough just holds together. Transfer to a floured surface and knead a few times. Shape into two uniform flat disks. Wrap them in plastic wrap and refrigerate.
Filling
Heat the chicken broth with the chicken base or bouillon.
Meanwhile, in a large saucepan, melt the 4 ounces of butter. Add the chopped onion and mushrooms and cook, stirring, until onion is softened and mushrooms are browned, about 7 to 9 minutes. Add the 2/3 cup of flour and cook, stirring, for about 2 minutes. Add the hot chicken broth and continue cooking until thickened, stirring frequently. Add the cream, cooked peas and carrots, and diced chicken. Taste and season with salt and pepper, to taste. Set aside to cool.
Heat the oven to 375 F.
Roll out one of the chilled pastry disks to fit a 2-quart baking dish or extra large deep dish pie pan. Fill with the cooled filling. If you have extra filling, put it in ramekins and use dough scraps or biscuits to cover.
Roll out the remaining disk and place it on the filling.
Quickly cut several slits in the top crust and roll and crimp the edge as desired.
Combine the egg yolk and 1 tablespoon of milk and cream. Lightly brush over the top crust.
Bake for 50 to 60 minutes, until the pastry is golden brown and the filling is hot and bubbly.
Makes 8 Servings
Site Search