Classic Chicken Piccata
by
, August 31, 2017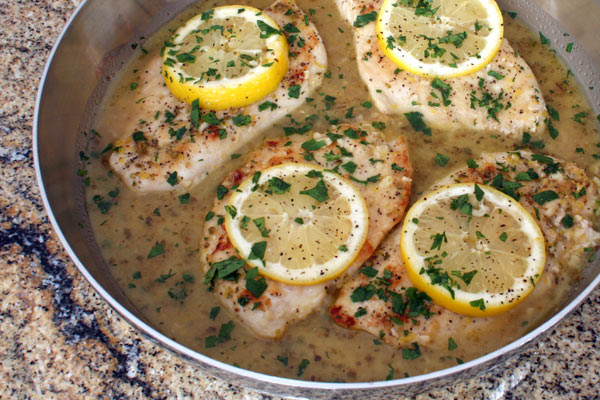 Chicken piccata is a classic lemon chicken recipe. The chicken is gently fried and then finished with fresh lemon juice and optional capers. Serve the chicken with angel hair pasta or spaghetti.
Related:
Slow Cooker Lemon and Garlic Chicken Thighs
Top 24 Easy Chicken Recipes
Prep Time: 15 minutes
Cook Time: 20 minutes
Total Time: 35 minutes
Ingredients:
Instructions:
Put a chicken breast between 2 sheets of plastic wrap; pound gently to flatten to about 1/4-inch in thickness. Repeat with the remaining chicken.
In a shallow bowl, combine the flour, salt, pepper, and paprika; blend well. Dredge the chicken breasts to coat thoroughly.
Heat the butter and olive oil in a large skillet over medium heat. Saute the chicken breasts for about 3 minutes on each side. Remove the chicken to a plate and set aside.
Drain off most of the excess drippings, leaving about 2 tablespoons. Stir in chicken broth, scraping to loosen browned bits.
Add lemon juice and heat through.
Return the chicken to the skillet with the lemon slices; heat until sauce thickens. Add capers, if using.
Sprinkle with the chopped parsley and serve with your favorite pasta and a salad or green vegetable.
Makes 6 Servings.
Site Search