Chicken and Pasta Casserole With Cheddar Cheese and Herbs
by
, September 6, 2017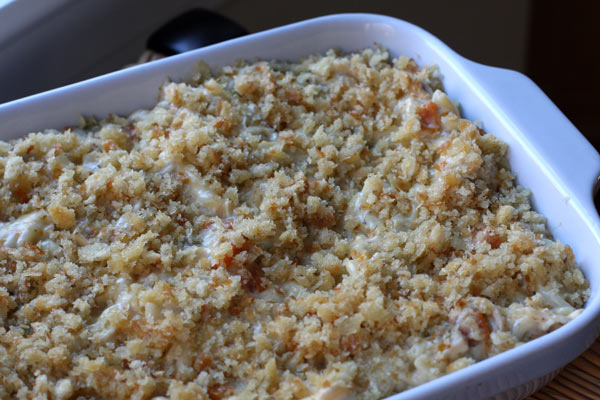 Chicken and a variety of herbs and vegetables team up in this pasta casserole. The recipe comes together with condensed soups and cheddar cheese, along with some chicken stock. The casserole was made with gemelli, but rotini and fusilli will work just fine as substitutes.
Related:
Chicken with Pasta and Cheese
Top 24 Easy Chicken Recipes
Prep Time: 15 minutes
Cook Time: 45 minutes
Total Time: 60 minutes
Ingredients:
Instructions:
Preheat the oven to 350 F.
Butter a 2-quart baking dish.
Cook the pasta following package directions. Drain in a colander and set aside.
Along with the chicken, you'll be using the vegetables and some of the liquid in the casserole.
In a large skillet or medium saucepan combine the chicken stock and white wine. Add the chicken breasts, onion, celery, carrots, and dried herbs. Bring the mixture to a boil and simmer for about 15 minutes to reduce slightly. Cover and continue simmering until chicken is cooked through, about 15 to 20 minutes, depending on thickness.
In a large bowl, combine the soups, milk, and cheddar cheese. Add the drained pasta.
Chop the chicken and add to the pasta mixture along with the parsley.
With a slotted spoon transfer the cooked onions, celery, and carrots to the pasta mixture.
Add about 1/2 cup of the pan liquids or enough to thin as desired.
Taste and add salt and pepper, as needed.
Spoon into the prepared baking dish.
Combine the bread crumbs with melted butter. Sprinkle over the casserole.
Bake for 25 to 30 minutes, until browned and bubbly.
Makes 6 servings.
Site Search