Fall Chicken and Vegetable Chowder
by
, October 13, 2017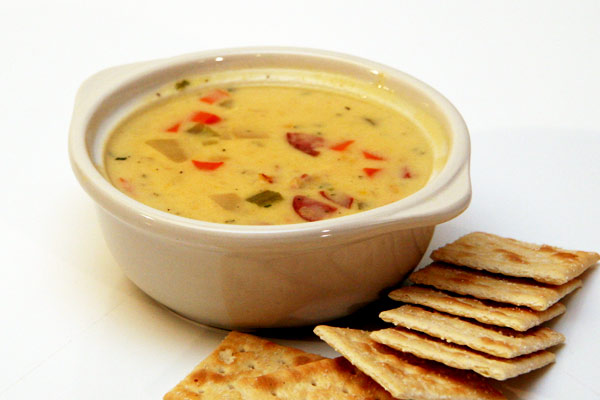 Some apple cider adds interesting flavor to this attractive and tasty fall chowder. I used chicken and apple sausage (Aidell's), which went well with the diced chicken. One reader said she used Italian sausage with good results. If you use a fresh sausage, brown it thoroughly and drain it first.
Related:
Best-Ever Chicken Tortilla Soup
Prep Time: 25 minutes
Cook Time: 45 minutes
Total Time: 1 hour 10 minutes
Ingredients:
Instructions:
Heat the olive oil in a stockpot or Dutch oven over medium heat; add the chopped onion, celery, and diced sausage. Cook over medium heat, stirring, until the onion is translucent and the sausage is lightly browned.
Add the apple cider, chicken stock, carrots, and potatoes. Bring to a boil over high heat. Reduce heat to medium-low and cover the pan; simmer for 30 minutes, or until vegetables are tender.
Add the corn and diced chicken.
In a medium bowl, whisk 1 cup of the milk with the 1/2 cup of flour.
Stir the milk mixture into the pot with the remaining 1 1/2 cups of milk.
Continue to cook, stirring, until thickened. Stir the cheese into the chowder and cook until melted.
Add parsley and salt and pepper, to taste.
Makes 8 servings.
Site Search