Chicken Chili With White Beans
by
, September 7, 2017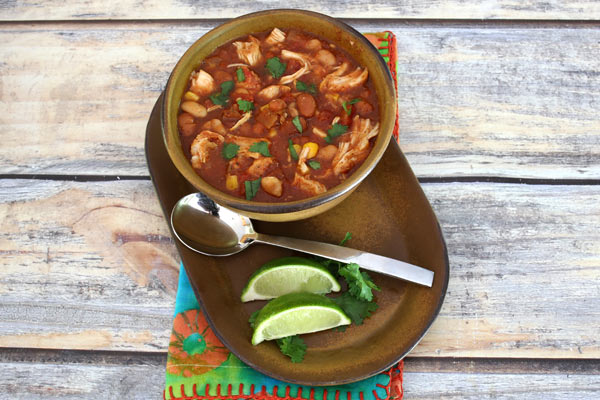 White beans and tomatoes make this chicken chili flavorful and satisfying. Serve with your favorite garnishes along with freshly baked cornbread Feel free to use pinto beans or black beans if you prefer.
Related:
Chili Con Carne With Pinto Beans
Top 24 Easy Chicken Recipes
Prep Time: 15 minutes
Cook Time: 20 minutes
Total Time: 35 minutes
Ingredients:
Instructions:
Heat the olive oil in a large nonstick saucepan over medium-high heat. When the oil is shimmering, add the chopped onion and garlic; saute until onion is translucent and just begins to brown.
Add the cubed chicken to the skillet and brown on all sides; add chopped jalapeno, coriander, cumin, diced tomatoes, and beans. Reduce heat to low and simmer for about 5 minutes; add the juice of one lime and stir in the corn kernels. Season with salt and pepper, to taste.
Cook chicken chili, stirring occasionally, for 5 minutes longer.
Serve with sour cream or guacamole, chopped red onion, and chopped cilantro.
4 to 6 servings.
Site Search