Swiss Chicken, Broccoli, and Noodle Casserole Recipe
by
, August 19, 2017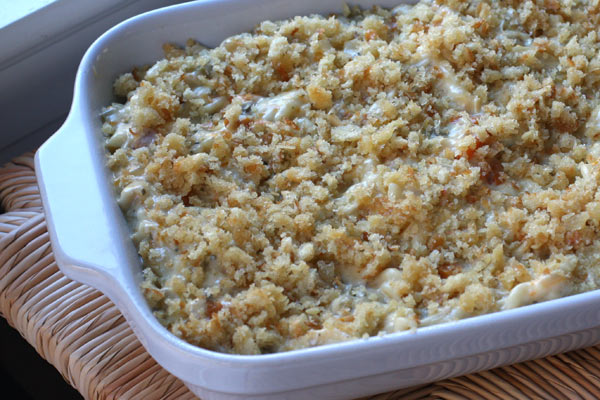 This is an easy casserole to mix and bake. The crunchy topping finishes the casserole perfectly. It's versatile as well. Use cheddar cheese instead of the Swiss cheese. Or add another vegetable or mixed vegetables to the dish.
Related:
Baked Chicken and Stuffing Casserole
Top 24 Easy Chicken Recipes
Prep Time: 15 minutes
Cook Time: 30 minutes
Total Time: 45 minutes
Ingredients:
Instructions:
Cook the noodles in boiling salted water following the package directions. Drain and set aside.
Spread the slivered almonds out in a dry skillet and then place the skillet over medium heat. Cook until lightly browned, stirring constantly. Remove to a plate and set aside.
Preheat the oven to 350 F.
In a medium skillet over low heat, melt 4 tablespoons of butter; add the onion and mushrooms and cook until tender, stirring frequently. Stir in flour, salt, and pepper and continue cooking for 2 minutes, stirring constantly. Gradually add the chicken stock and milk, stirring constantly. Bring to a simmer; reduce the heat to low and simmer, until sauce is thickened, stirring constantly.
Stir 1 cup of the Swiss cheese into the sauce and continue cooking until the cheese has melted.
Add chicken and broccoli to the sauce and heat through.
Toss with hot noodles and transfer to a buttered casserole. Taste and adjust seasonings.
Melt the remaining 2 tablespoons of butter and toss with the bread crumbs, toasted almonds, and the remaining 1/2 cup of cheese.
Top the casserole with the bread crumb mixture and bake for 20 minutes, or until the bread crumbs are browned.
Makes 4 Servings
Site Search