Baked Chicken Breasts and Dressing in Foil Packets
by
, June 25, 2017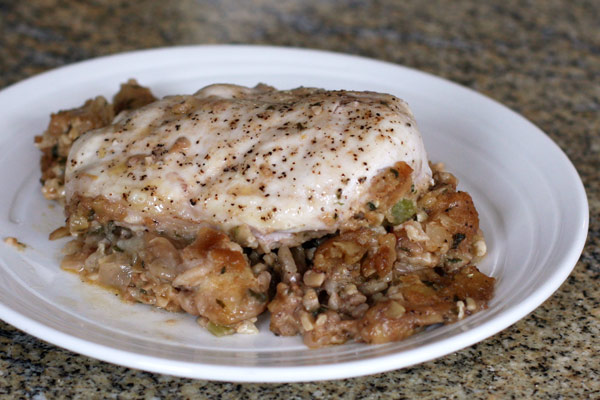 A savory bread and walnut dressing is baked with these chicken breasts. The chicken breasts are baked with the dressing in foil packets.
Related:
Top 24 Easy Chicken Recipes
Prep Time: 15 minutes
Cook Time: 50 minutes
Total Time: 1 hour 5 minutes
Ingredients:
Instructions:
Preheat the oven to 350 F.
Generously butter four double-thickness squares of foil; set aside.
In a skillet over medium heat, melt 6 tablespoons of the butter. Add the onion and celery and cook, stirring, until vegetables are softened, about 3 to 4 minutes. Mix together bread crumbs, butter and vegetable mixture, parsley, walnuts, 1/2 teaspoon seasoned salt, and enough chicken broth to moisten.
Make a mound of stuffing on each buttered square of foil then place on baking sheet.
Melt the remaining 2 tablespoons of butter and brush both sides of the chicken; drizzle with a little lemon juice. Sprinkle lightly with seasoned salt and pepper.
Place a chicken breast on each mound of dressing mixture.
Fold foil up over the chicken to make individual packets.
Bake the packets for 30 minutes. Open the foil up to expose chicken and bake for about 15 minutes longer, or until the chicken reaches at least 165 F.
Makes 4 Servings
Site Search