Cheesy Wagon Wheel Pasta Bake
by
, August 26, 2017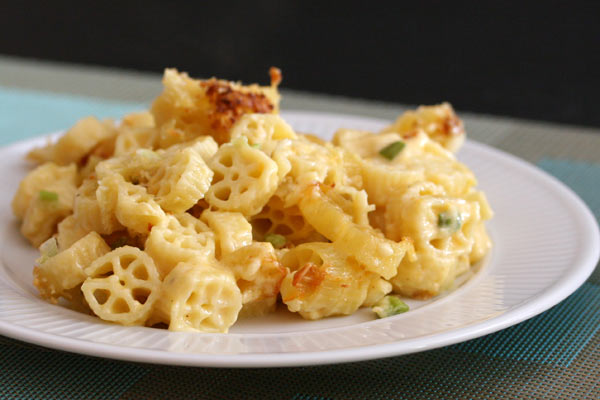 This wagon wheel pasta casserole is basically a baked macaroni and cheese in a fun shape. Kids love wagon wheels but feel free to use macaroni or shells in the recipe. This is a recipe you'll make again and again.
Related:
Rich 2-Cheese Penne Pasta Bake
Prep Time: 12 minutes
Cook Time: 36 minutes
Total Time: 48 minutes
Ingredients:
Instructions:
Cook macaroni following package directions. Drain in a colander and rinse with hot water; set aside.
Heat the oven to 350 F.
Butter a 2-quart baking dish.
In a saucepan, melt 4 tablespoons of butter over medium-low heat. Stir flour into the butter until smooth and bubbly. Cook for 2 minutes, stirring constantly. Add the dry mustard, salt, and pepper; blend well. Gradually whisk the milk into the roux and continue cooking until thickened. Add the green onions, if using, along with the cheese; stir until smooth.
Combine the drained pasta wheels and the sauce; turn into the prepared baking dish.
Melt the remaining 2 tablespoons of butter and toss with the bread crumbs until thoroughly coated.
Sprinkle the buttered bread crumbs over the casserole.
Bake for about 25 minutes, or until the pasta mixture hot and bubbly around the edges and the topping is lightly browned.
Makes 6 servings.
Site Search