Eggplant Casserole
by
, April 29, 2017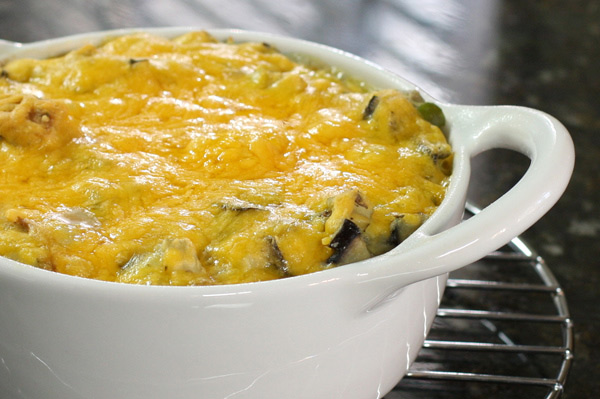 The filling for this eggplant casserole is made with diced eggplant, eggs, and shredded cheese.
Prep Time: 15 minutes
Cook Time: 30 minutes
Total Time: 45 minutes
Ingredients:
Instructions:
Preheat the oven to 350 F.
Butter a 1 1/2-quart casserole.
Dice the eggplant (peel it or leave it unpeeled) and place it in a steaming basket over about 1 inch of simmering water. Steam the eggplant just until tender, about 5 minutes.
Heat the olive oil in a large skillet over medium heat. Add the onion and bell pepper and cook, stirring, until the onion is tender. Add the garlic and saute for about 2 minutes longer. Remove from heat and set aside.
Spread the two slices of bread with the butter and cut into cubes. Stir the eggplant and bread cubes into the onion mixture. Let the mixture cool slightly.
In a bowl, beat the eggs with the salt, pepper, thyme, and oregano. Add the eggplant mixture to the beaten egg mixture along with half of the cheese; stir until well blended.
Spoon the mixture into the buttered baking dish and cover with the remaining shredded cheese.
Bake in the preheated oven for 20 to 25 minutes, or until lightly browned. Serve immediately.
4 Servings
Site Search