Low Carb Cauliflower "Macaroni and Cheese"
Updated July 1, 2017 by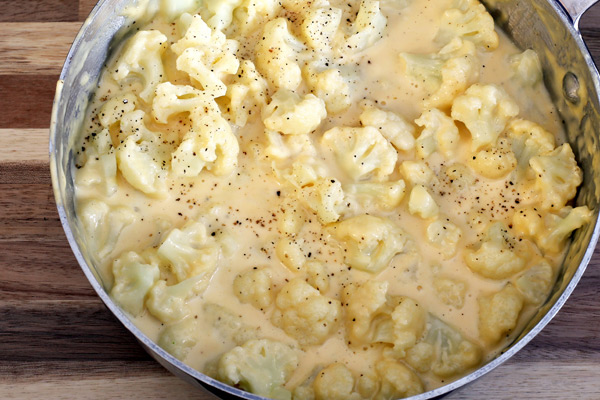 If you're low-carbing it, you will appreciate this macaroni and cheese substitute. It a wonderful side dish, and the recipe is super easy to prepare. The dish is finished in the oven with extra cheese topping.
Prep Time: 15 minutes
Cook Time: 25 minutes
Total Time: 50 minutes
Ingredients:
Instructions:
Cut the cauliflower into small florets.
Place a steaming basket in a large saucepan and add about an inch of water. Add the cauliflower and bring the water to a boil. Cover and cook for about 6 to 9 minutes, or until the cauliflower is tender. Drain and set aside.
Meanwhile, heat the cream in another saucepan over medium-low heat. Add the cheese, garlic powder, and mustard powder. Stir until cheese has melted. Add 1/2 cup of milk. Add more milk, as needed.
Taste and season with salt and freshly ground black pepper, to taste.
Combine the sauce with the cauliflower; transfer to the prepared baking dish and sprinkle some cheddar cheese over the top.
Bake for about 15 to 20 minutes, or until bubbly.
Sprinkle with some cheddar cheese. Broil until the cheese has browned.
Serves 4 to 6
Site Search