Broccoli and Cauliflower Salad
by
, August 15, 2017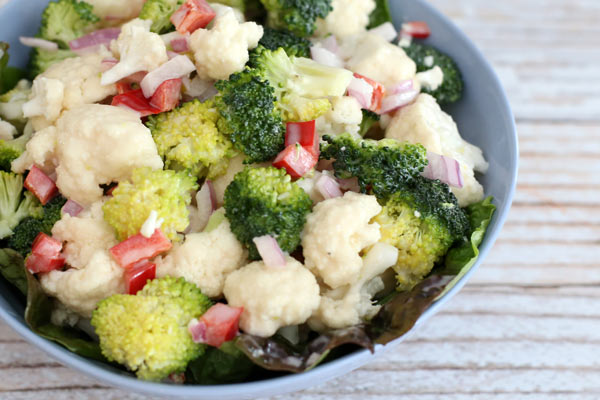 This colorful salad is dressed with a lightly sweetened mayonnaise mixture. Crumbled bacon adds flavor, but feel free to leave it out or add even more. Feel free to add some raisins for extra texture and flavor.
Related:
Broccoli Crunch Salad Recipe
Prep Time: 15 minutes
Cook Time: 0 minutes
Total Time: 15 minutes
Ingredients:
Instructions:
Wash and trim broccoli and cauliflower; break into small florets. Put the broccoli and cauliflower in a serving bowl and add the red onions, bell pepper.
In another bowl, combine the mayonnaise, oil, vinegar, sugar, salt, and pepper. Add the dressing mixture to the vegetables and toss to blend. Chill thoroughly.
Garnish with cooked crumbled bacon just before serving.
Makes 8 Servings
Site Search