Chewy Sea Salt Caramels
by
, January 18, 2018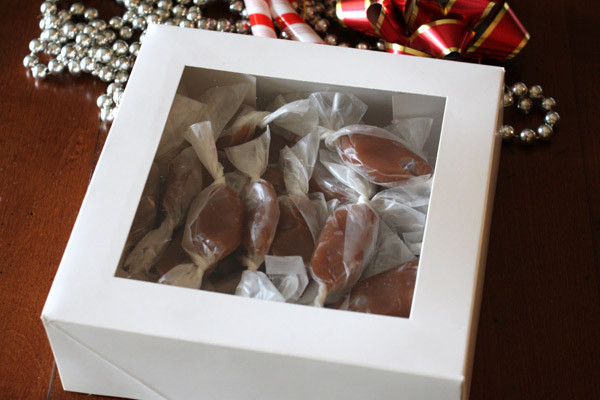 If you love chewy caramels, these addictive little candies are for you! The caramels are easy to fix and cook on the stovetop; all you need is a reliable candy thermometer and some waxed paper for wrapping the candy. Sprinkle flaky sea salt over them after they're set and enjoy!

I recommend you use a reliable candy thermometer for the caramels, and you do need to watch them carefully. The cream is added when the syrup is amber in color. Don't let the syrup get too dark or it could burn.
Related:
Millionaire's Shortbread
Prep Time: 15 minutes
Cook Time: 20 minutes
Total Time: 35 minutes
Ingredients:
Instructions:
Brush a 9-inch square baking pan with vegetable oil and then line the bottom and sides with a sheet of parchment paper; brush the parchment paper lightly with oil.
In a deep medium to large saucepan — at least 4 to 5 inches in depth — combine the water, sugar, and corn syrup. Bring to a boil over medium heat. Boil the mixture, swirling the pan frequently, until the mixture has turned a medium golden amber color. Do not stir.
Meanwhile, combine the heavy cream, unsalted butter, and 1 teaspoon of sea salt in a saucepan and place it over low heat. Bring the mixture to a simmer. Remove the cream mixture from the heat and set aside.
When the sugar mixture begins to have a yellow cast, watch carefully. When the syrup reaches a deep amber color, carefully add the cream. Using a wooden spoon, stir the vanilla into the mixture. Attach a candy thermometer and cook over medium-low heat to 250 F (aka firm ball stage). This stage will take about 10 to 15 minutes.
Pour the finished caramel into the prepared pan. It will bubble up at first, but it will smooth out as it sets. Let the caramel mixture stand for a few hours and then sprinkle with flaky sea salt. Tamp down very lightly to help the salt adhere to the caramel.
Cut the caramel into squares or small logs and wrap in wax paper or candy wrappers.
Makes 60 servings.
Site Search