Pan-Fried Burgers With Caramelized Onions
by
, January 29, 2018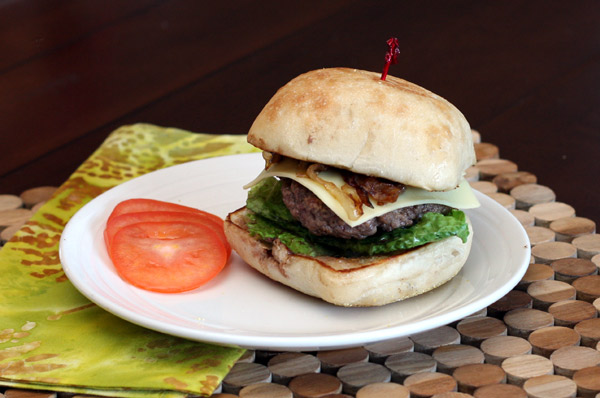 Caramelized onions and cheddar cheese take these pub-style burgers to new heights. The burgers are pan-fried, but feel free to use the grill, grill pan, or broiler. Serve the burgers on toasted buns or ciabatta rolls (pictured) along with your favorite condiments and toppings.

More fat means more flavor, so use 80% to 85% beef for the tastiest, juiciest burgers. If you plan to use ground turkey, use ground turkey thighs.
Related:
Bacon and Cheese Stuffed Burgers
Prep Time: 10 minutes
Cook Time: 30 minutes
Total Time: 40 minutes
Ingredients:
Instructions:
Heat the olive oil and butter in a large, heavy skillet over medium-low heat. Add the onions to the skillet. Cook until golden brown and very tender, about 15 to 20 minutes, stirring frequently. Remove the onions from the pan.
In a bowl, mix the ground beef with the burger seasoning. Shape the ground beef into four 4-ounce patties. Arrange the burgers in the same skillet and cook over medium heat until cooked through, or about 5 to 6 minutes on each side.
Meanwhile, toast the buns on a griddle or grill pan; set aside.
Top each burger with 2 slices of cheese and cover the pan until cheese has melted. Place a lettuce leaf on the bottom of a toasted bun. Top with a cheeseburger, then top with a generous amount of caramelized onion and the top of the bun.
Serve with condiments and sliced tomatoes on the side.
Makes 4 servings.
Site Search