Cheddar Cabbage Gratin With Bacon
by
, August 17, 2017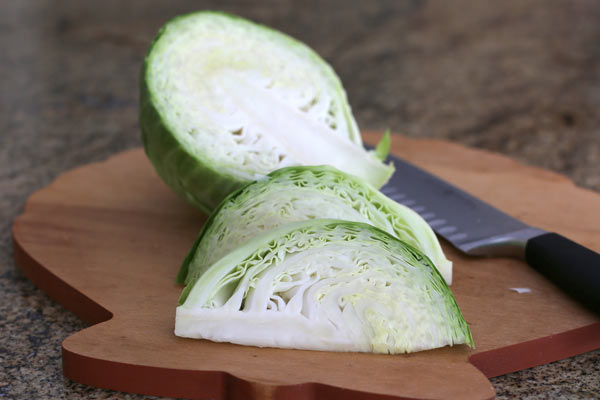 Green bell pepper, celery, and some paprika add color and flavor to this creamy scalloped cabbage gratin. Buttered bread crumbs provide a crunchy finish. Feel free to omit the celery and/or green bell pepper if you like, or leave the bacon out for a vegetarian dish.
Related:
Cabbage With Cheese Sauce and Bacon
Prep Time: 20 minutes
Cook Time: 35 minutes
Total Time: 55 minutes
Ingredients:
Instructions:
Preheat the oven to 400 F.
Remove outer leaves from cabbage and then cut it into 6 to 8 wedges. Place the cabbage wedges in a large saucepan with about 3 inches of boiling water. Add 3/4 teaspoon salt, cover the pan, and simmer for 10 minutes. Drain.
Transfer the cabbage to a 2-quart baking dish.
In a skillet over medium-low heat, melt 2 tablespoons butter; add the green pepper and celery and saute for 3 minutes, or until tender. Transfer vegetables to the baking dish with slotted spoon.
Melt 2 tablespoons of butter in the same skillet; stir in flour and continue cooking and stirring for 2 minutes. Gradually add the milk. Cook, stirring, until the sauce has thickened. Season with salt and pepper, to taste. Pour sauce over cabbage.
Melt the remaining 2 tablespoons of butter; toss with the bread crumbs.
Sprinkle the crumbled bacon over the casserole along with the buttered bread crumbs and shredded cheese. Sprinkle with the paprika.
Bake for about 20 minutes, or until browned and bubbly.
Makes 6 Servings
Site Search