Creamy Butternut Squash Soup
by
, August 13, 2017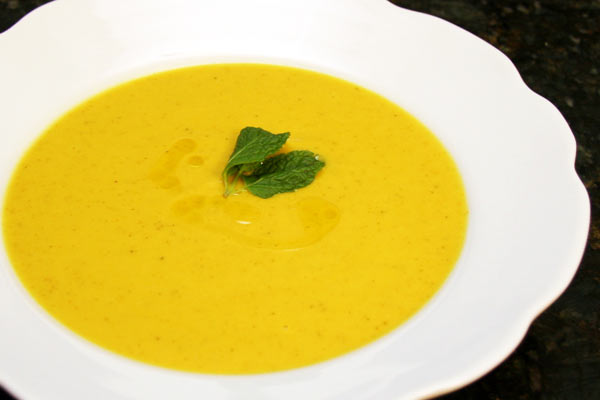 Complementary flavors of butternut squash, apples, and curry powder make this a delicious soup. A small amount of cream adds richness to the soup. Feel free to use acorn squash, Hubbard, or buttercup squash.
Related:
Sausage and Butternut Squash Stew
Prep Time: 20 minutes
Cook Time: 15 minutes
Total Time: 45 minutes
Ingredients:
Instructions:
Peel the squashes; remove the seeds and cut into chunks. Place the chunks of squash in a steaming container over simmering water; steam until tender. Mash the squash and measure about 3 to 3 1/2 cups. Set aside.
Peel and core the apples and dice.
In a large saucepan over medium-low heat, melt the butter; add the diced apple, onion, celery, and carrot. Cook until onion and celery are tender, about 5 to 7 minutes, stirring frequently. Add chicken broth; cover and simmer until vegetables are tender.
Add the cream to the saucepan, along with the salt, curry powder, and mashed squash.
Working in 3 or 4 batches, carefully puree in a blender (see the tips, below). Pour the soup back into the saucepan and heat through just before serving.
Serve with a drizzle of robust or extra-virgin olive oil, if desired, or sprinkle with some chopped cilantro or parsley.
To avoid messy and potentially dangerous blender explosions, follow these steps when pureeing any hot liquid:

Fill the blender about one-third full, and never more than half full.
Loosen the center cap in the lid of the blender.
Place a folded kitchen towel over the lid and hold it down firmly.
Makes 6 Servings
Site Search