Fried Chicken With Creamy Buttermilk Sauce
by
, August 9, 2017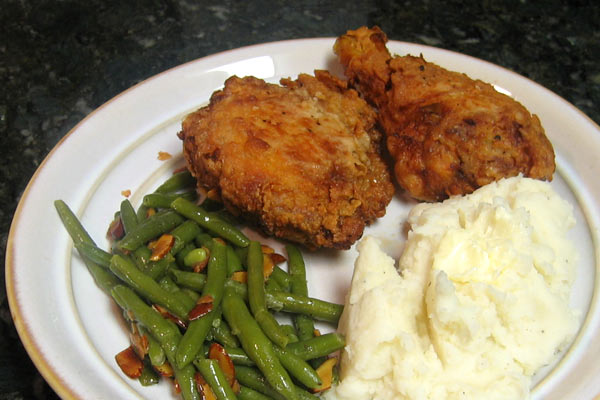 This basic buttermilk fried chicken is served with lightly sauteed scallions. The buttermilk makes a fabulous creamy sauce for the fried chicken.
Related:
Top 24 Easy Chicken Recipes
Prep Time: 15 minutes
Cook Time: 30 minutes
Total Time: 45 minutes
Ingredients:
Instructions:
In a food storage bag, combine the salt, pepper, and flour. Add the chicken to the bag and toss lightly to coat. Heat 3 tablespoons of oil in large skillet over medium-high heat. When the oil is hot and shimmering, add the chicken pieces and cook until golden on all sides, about 5 to 8 minutes. Remove the chicken and pour off excess oil.
Return the skillet to the heat. Add the buttermilk, scraping the bottom of the pan to loosen any brown bits. Add the chicken, skin side up. Reduce the heat to medium-low, cover the pan, and simmer until chicken is tender and juices run clear, about 15 to 20 minutes (at least 165 F).
Meanwhile, heat the remaining 1 tablespoon of vegetable oil in another skillet over medium-high heat. Add green onions and toss to coat. Cook for about 3 minutes, or until browned, stirring constantly. Season with salt and pepper to taste.
Arrange chicken and green onions on serving platter.
Pour the buttermilk mixture (from the skillet the chicken was cooked in) into blender container and pulse until smooth.
Pour the buttermilk sauce over the chicken for serving.
Makes 4 Servings
Site Search