Busy Day Pork Chop and Rice Bake
by
, November 05, 2017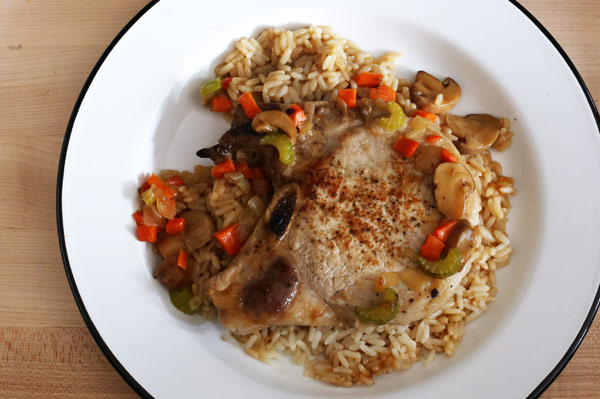 These easy pork chops are seared and then baked with rice and a variety of vegetables. It's an easy all-in-one meal that's perfect for a busy day.
Related:
Oven Braised Pork Chops With Mushrooms
Prep Time: 10 minutes
Cook Time: 40 minutes
Total Time: 50 minutes
Ingredients:
Instructions:
Preheat the oven to 325 F.
Melt the butter with about 1 tablespoon of olive oil in a large skillet over medium heat. Add carrots, onions, and celery to the skillet and cook just until tender, stirring frequently. Add mushrooms and cook until the mushrooms are tender. Remove the vegetables to a plate and set aside.
Add the pork chops to the skillet along with the remaining 1/2 tablespoon of olive oil; brown on both sides. Add the vegetables back to the skillet along with the wine; simmer until the wine has almost cooked off; stir in gravy mix. Add the water or stock and cook until thickened and bubbly.
Place the cooked rice in a shallow 2-quart casserole; top with the pork chops, vegetables, and sauce.
Bake the pork chops with rice for about 25 minutes, or until hot.
Makes 6 servings.
Site Search