Browned Butter Chocolate Chip Cookies
by
, October 10, 2017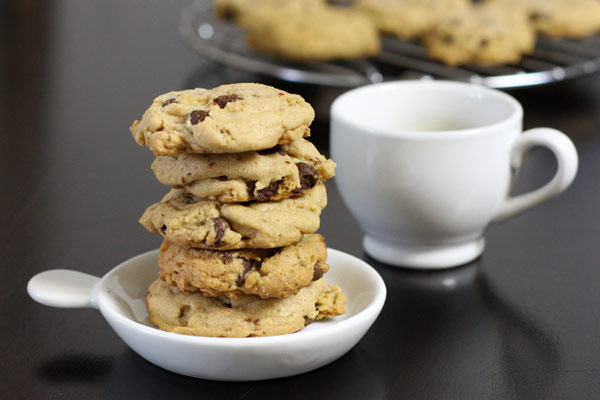 The browned butter cookies are filled with chopped pecans and chocolate chips. The browned butter adds a couple of extra minutes of prep time, and it is totally worth it. The browned butter gives the cookies a nutty, buttery flavor. Unsalted butter is the best choice for browned butter. If you only have salted butter, decrease the amount of salt by 1/4 teaspoon and take care not to burn the butter.

The recipe makes about 3 dozen cookies, depending on size.
Related:
Graham Blondies With Chocolate Chips
Soft Chocolate Chip Cookies
Prep Time: 12 minutes
Cook Time: 12 minutes
Total Time: 24 minutes
Ingredients:
Instructions:
Preheat the oven to 350 F.
Line baking sheets with parchment paper or grease lightly.
In a bowl, combine the flour, baking soda, and salt. Set aside.
Melt the butter in a saucepan over medium heat. Continue cooking until browned, stirring constantly. This should take about 2 minutes; watch carefully for over-browning. When the butter sediment is light brown, remove it from the heat and strain it into a mixing bowl. Cool completely.
To the cooled butter, add the brown and granulated sugars and beat until smooth and well blended. Add the eggs and vanilla and beat until well blended.
With the mixer on low speed, add the flour mixture. Fold in the chocolate chips and pecans, if using.
Drop onto the prepared baking sheets with a cookie scoop or tablespoon.
Bake for 10 to 12 minutes, or until just lightly browned around the edges.
Cool on a rack.
Store the cooled cookies in a tightly covered container.
The recipe makes about 3 dozen cookies, depending on size.
Makes about 36 servings.
Site Search