Broccolini With Garlic
by
, January 18, 2018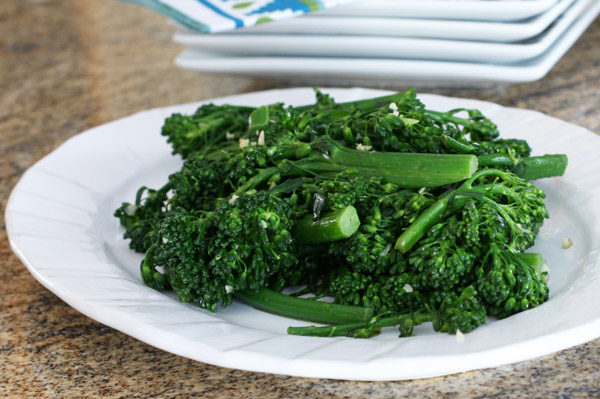 Broccolini is a cross between Chinese broccoli and everyday broccoli. The stalks look a lot like broccoli rabe, but the flavor is very different. Broccolini — also known as baby broccoli — is from the cabbage family while broccoli rabe is from the turnip family and tends to have that bitterness.

This recipe is an easy and delicious way to fix the slender stalks. The broccolini is sauteed to perfection with a combination of garlic, butter, and olive oil. It's a splendid dish to serve along with steaks or fried chicken, and it's elegant enough for a dinner party or holiday meal.
Related:
Easy Steamed Broccoli
Prep Time: 4 minutes
Cook Time: 5 minutes
Total Time: 9 minutes
Ingredients:
Instructions:
Rinse the broccolini and cut off about a quarter of the stem. If the stems are quite thick, cut them in half lengthwise.
Fill a medium saucepan with water and add 1 teaspoon of kosher salt. Bring the water to a boil over high heat.
Meanwhile, fill a large bowl with ice and cold water.
Add the broccolini to the boiling water and bring back to a boil. Boil for 1 1/2 to 2 minutes. Immediately transfer the broccolini to the ice water and immerse. Drain thoroughly.
Heat the oil and butter in a large heavy skillet over medium heat. Cook until the garlic just begins to show some color, about 2 minutes. Add the drained and cooled broccolini and cook, stirring, until hot.
Sprinkle lightly with kosher salt and freshly ground black pepper.
Makes 4 servings.
Site Search