Bread Machine Cinnamon Rolls Recipe
by
, June 4, 2017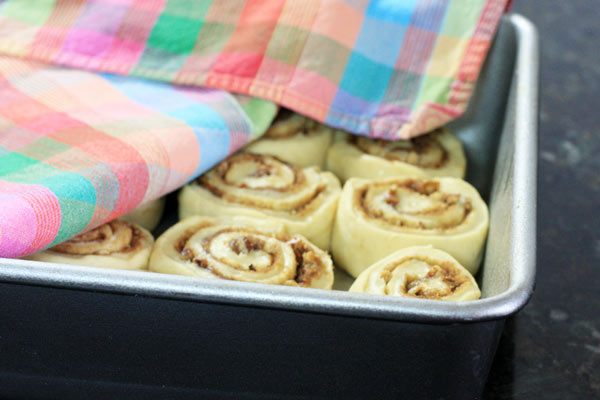 Bake these fabulous bread machine cinnamon rolls for a holiday morning or weekend breakfast treat. The bread machine does the mixing and kneading. The rest is easy!
Prep Time: 30 minutes
Cook Time: 25 minutes
Total Time:55 minutes
Ingredients:
Dough
Filling
Icing
Instructions:
Whisk the milk, egg, and 2 teaspoons of vanilla together until blended. Following the bread machine manufacturer's instructions for order, add the milk mixture to the bread machine pan along with the flour, 4 tablespoons softened butter, salt, 1/3 cup granulated sugar, and yeast.
Set your machine on the rapid dough cycle.
Remove the dough to a lightly floured surface. Roll the dough out to make a rectangle about 10-by-20 inches. Spread the rolled out dough with the 3 tablespoons of melted butter.
In a small bowl, combine the 6 tablespoons of brown sugar with 1 1/2 teaspoons of cinnamon and the chopped pecans, if using. Sprinkle evenly over the entire buttered surface. Roll up tightly from the long end; pinch seams to seal.
Cut the roll into 1-inch slices.
Place the rolls, cut side down, in a greased 9-by-13-by-2-inch baking pan. Cover with a clean tea towel and let rise in a draft-free place for 45 minutes.
Preheat the oven to 350 F.
Bake the cinnamon rolls for 20 to 25 minutes, or until nicely browned.
Remove to a rack to cool slightly.
Combine the 2 tablespoons of melted butter with 3 tablespoons of hot water and 1 teaspoon of vanilla or vanilla bean paste. Stir in powdered sugar, then add a little more hot water to make an icing you can drizzle over the rolls. If too thin, add small amounts of confectioners sugar. Spoon the icing over the warm rolls.
Makes about 18 to 20 cinnamon rolls.

Makes 18 Servings
Site Search