Mom's Bread and Butter Pickles
by
, June 19, 2017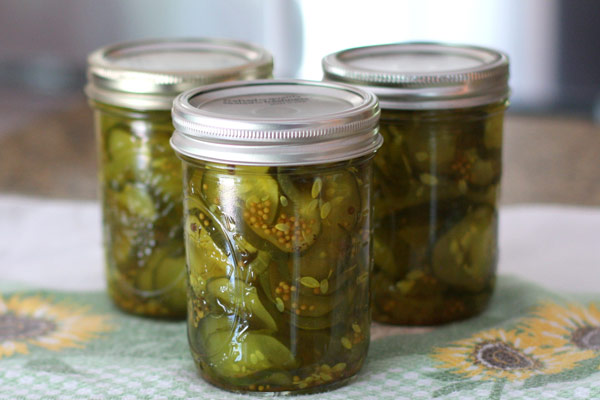 These are the bread and butter pickles I always made for my mother because she loved them so much. They are easy to make and they make wonderful gifts. Add some red bell pepper strips for festive color. There isn't a lot of hands-on time, but they do need time to stand with ice and salt.
Choose fresh unwaxed cucumbers for the recipe.
Prep Time: 25 minutes
Cook Time: 20 minutes
Total Time: 45 minutes
Ingredients:
Instructions:
Wash the cucumbers and trim the tops and ends. Slice the cukes into rounds about 1/4-inch thick or a bit less.
Quarter the onions and slice about 1/4-inch thick.
In a large bowl, layer the cucumber slices and onions with the pickling salt. Cover with about 6 cups of ice cubes. Let the mixture stand for 3 to 4 hours.
Meanwhile, put the jars in a large canner and cover with water. Bring to a boil. Reduce heat to the lowest temperature to keep the jars hot until you're ready to fill them.
Put the lids in a saucepan and bring to a simmer. Keep them warm until you're ready to seal the jars.
Put the cucumber and onion mixture into a large colander (or two colanders) and rinse thoroughly under cold running water.
In a large stainless steel pan combine the sugar, cider vinegar, white vinegar, mustard, celery seeds, and turmeric. Slowly bring the vinegar mixture to a full boil over medium heat, stirring frequently to dissolve the sugar. Stir in the cucumber mixture, increase the heat to medium-high, and bring back to a full boil.
With tongs, remove a jar from the hot water in the canner and fill with the cucumber mixture, leaving a 1/2-inch head space. With dampened paper towels, wipe the rims of the jar. Center a lid on a jar, so the sealing compound is in contact with the rims. Screw the band down just to fingertip tightness. Do not over-tighten. Repeat until all of the pickles are used.
Put the filled jars in the canner If the water isn't at least 1 inch above the tops of the jars, add more hot or simmering water. Make sure the jars do not touch each other. Cover the canner and bring to a full boil. Reduce the heat and keep the water at a gentle boil for 10 minutes. Turn off heat, remove the cover, and let stand for 5 minutes.
With tongs, remove the jars from the water to a rack or heavy towel to cool.
Do not tilt or disturb lids while they cool.
After 24 hours, check seals and remove the bands.
Label and store in a cool, dry, dark place.
For best flavor, wait at least 2 weeks before opening the first jar.
Makes 8 to 9 Pints
Site Search