Oven Braised Pork Chops With Mushrooms
by
, September 26, 2017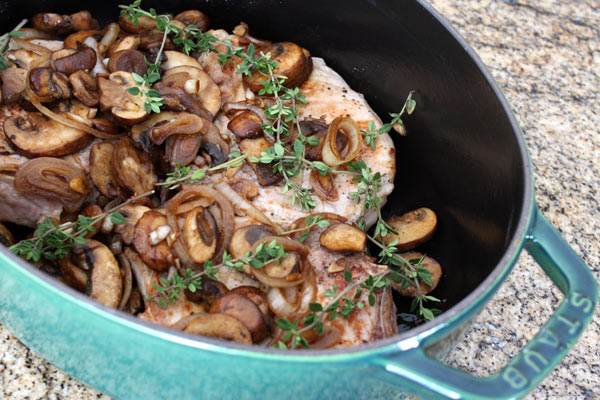 These pork chops are braised in the oven, an easy method of cooking for flavorful, juicy chops. Mushrooms and onions flavor the pork chops, and the cooking broth is thickened to make a tasty sauce.
Related:
Skillet Pork Chops With Apple Jelly and Mustard Sauce
Prep Time: 15 minutes
Cook Time: 2 hours
Total Time: 2 hours 15 minutes
Ingredients:
Instructions:
Heat the oven to 325 F.
Heat 1 tablespoon of butter and 1 tablespoon of olive oil in a heavy skillet over medium-high heat. Add the pork chops and cook for about 4 minutes on each side or until browned.
Transfer the pork chops to a heavy, oven-safe Dutch oven or large covered casserole.
Add the remaining tablespoon of olive oil to the skillet. Add the mushrooms and onions and cook, stirring, until the mushrooms are tender and golden and onions are lightly browned.
Spoon the mushrooms and onions over the chops.
Pour the vegetable broth or chicken stock into the skillet and bring to a boil; scrape up browned bits on the bottom of the pan. Pour over the chops.
Cover the pan tightly and bake for 2 hours.
Remove the pork chops to a platter. Strain the juices into a gravy separator or bowl. Spoon the solids (mushrooms and onions) over the chops on the platter.
Skim the fat and discard; pour the remaining liquids into a saucepan and place it over medium heat. Bring the juices to a boil.
In a small bowl, combine the cornstarch with the water; add it to the liquids in the saucepan and continue cooking until thickened, stirring constantly.
Add the remaining 1 tablespoon of butter, about 1 teaspoon at a time. Whisk after each addition.
Pour the sauce over the chops and serve.
Makes 4 servings.
Site Search