Roasted Bone Marrow
by
, September 15, 2017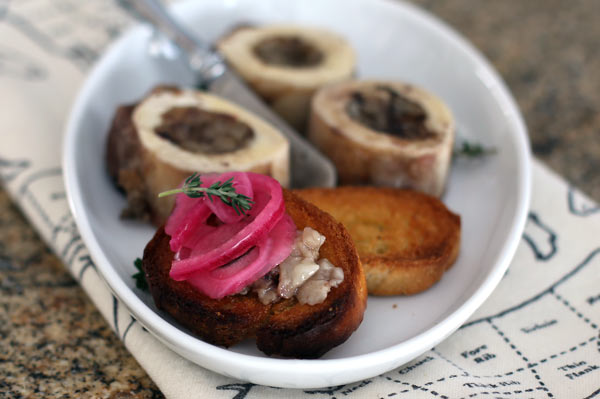 Roasted beef bones produce a rich, buttery marrow. The roasted marrow makes a delicious spread for toasted bread along with some pickled onions or capers. Chimichurri sauce would make an excellent topper for the spread as well.
Related:
Pimiento Cheese Spread
Prep Time: 10 minutes
Cook Time: 20 minutes
Total Time: 30 minutes
Ingredients:
Instructions:
Heat the oven to 450 F.
Line a rimmed baking pan with foil.
Arrange the marrow bones in the pan, cut sides up.
Roast the bones for 20 minutes, or until the marrow centers register at least 145 F. They should be soft in the center and just beginning to leak marrow. Too long and the marrow will be too soft and mushy.
Drizzle the lemon juice over the marrow. Scoop the marrow out and spread on toasted baguette slices. Sprinkle lightly with kosher salt.
Serve the baguettes on a plate with some quick pickled red onions, fresh ground black pepper, chopped herbs, capers, or other condiments for topping.
Makes 4 to 6 appetizer servings.
Site Search