Blueberry Cheesecake Bars
by
, May 19, 2017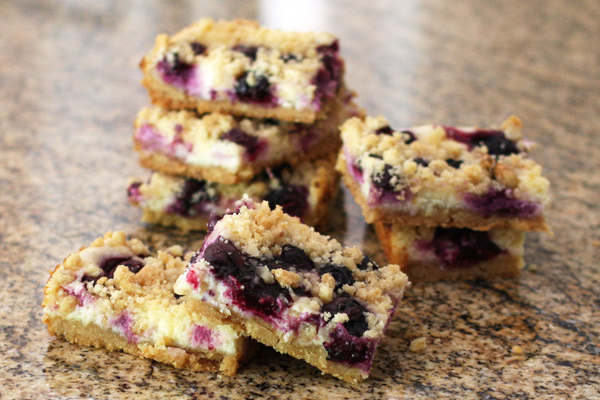 These blueberry cheesecake bars are flavored with lemon juice and zest. The bars are made with a shortbread crust.
Prep Time: 15 minutes
Cook Time: 40 minutes
Total Time: 55 minutes
Ingredients:
Crust
Filling
Instructions:
Preheat the oven to 350 F.
Lightly butter a 9-inch square baking pan.
In a bowl, combine the flour, pecans, brown sugar, and softened butter. Work the mixture together with fingers until crumbly. Reserve about 1/2 cup of the crumbs and set aside.
Pat the remaining crumbs in the prepared baking pan. Bake for 12 minutes, or until lightly browned. Remove to a rack to cool.
Meanwhile, in a mixing bowl, beat the cream cheese until smooth. Beat in the lemon juice and zest, granulated sugar, vanilla, and egg. Beat on medium speed for 2 to 3 minutes, scraping the sides of the bowl occasionally.
Spread the cream cheese mixture on the browned crust. Sprinkle evenly with the blueberries and then sprinkle the reserved crumb mixture over the blueberries.
Bake for 25 to 30 minutes longer, or until lightly browned.
Cool and then cover and refrigerate until serving time.
Makes 16 Servings
Site Search