Blueberry Bread Pudding
by
, May 16, 2017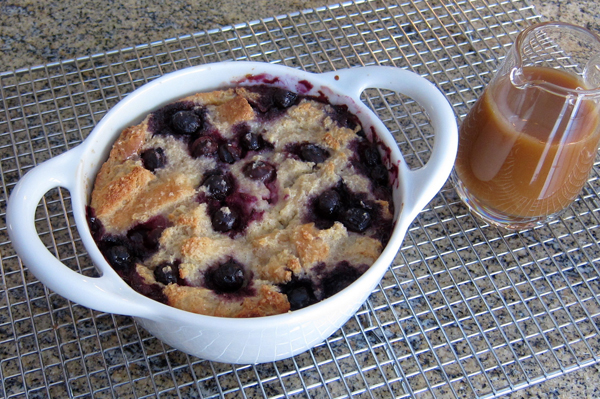 This bread pudding is made with fresh or frozen blueberries. It's similar to a baked French toast, making it an excellent dessert or breakfast dish. Serve it with the vanilla sauce or syrup.
Prep Time: 15 minutes
Cook Time: 1 hour
Total Time: 1 hour 15 minutes
Ingredients:
Vanilla Sauce
Instructions:
Preheat the oven to 350 F.
Butter a 2-quart baking dish.
In a large bowl, combine the eggs and milk; whisk until blended. Whisk in the 1/2 cup of granulated sugar, 1 teaspoon vanilla, salt, and cinnamon.Add the torn bread pieces and let stand for 5 to 10 minutes to give the bread time to soak up the milk and egg mixture.
In a small bowl, toss the blueberries with the powdered sugar. Stir into the bread and milk mixture.
Transfer the pudding mixture to the prepared baking dish.
Bake for 55 to 65 minutes, or until lightly browned. A knife inserted in the center should come out clean when inserted into the center.
Meanwhile, make the vanilla sauce. In a saucepan over medium heat, combine the brown sugar, 1/2 cup granulated sugar, syrup, cream, and butter. Bring to a boil and continue cooking for 5 minutes, stirring frequently.
Remove the sauce from the heat and add the 2 teaspoons of vanilla extract. Pour the sauce into a serving dish and serve warm with the bread pudding.
Makes 4 to 6 Servings
Site Search