Blue Corn Muffins
by
, October 28, 2017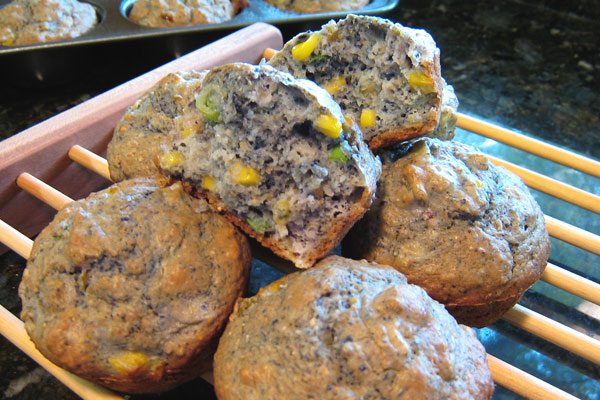 Sour cream, corn, and chile peppers add flavor to these attractive blue corn muffins. Blue cornmeal was used in the pictured muffins, but you could use a good quality stone ground cornmeal as well.
Related:
Southern Cornbread Salad
Moist Sour Cream Cornbread
Prep Time: 10 minutes
Cook Time: 20 minutes
Total Time: 30 minutes
Ingredients:
Instructions:
Heat the oven to 425 F.
Spray a 12-cup muffin tin with paper liners or spray the cups with cooking oil spray.
In a mixing bowl, combine the cornmeal, flour, sugar, baking powder, salt, and baking soda. Stir the dry ingredients to blend.
In another bowl, whisk together the sour cream, eggs, and cooled melted butter.
Add the wet mixture to the dry ingredients and stir just until blended. Fold in the thawed corn kernels, green onions, and chile peppers.
Fill muffin cups about three-quarters full.
Bake for 20 minutes, or until a toothpick inserted in the center of a muffin comes out clean.
Makes 12 servings.
Site Search