Parsley Biscuits
by
, September 22, 2017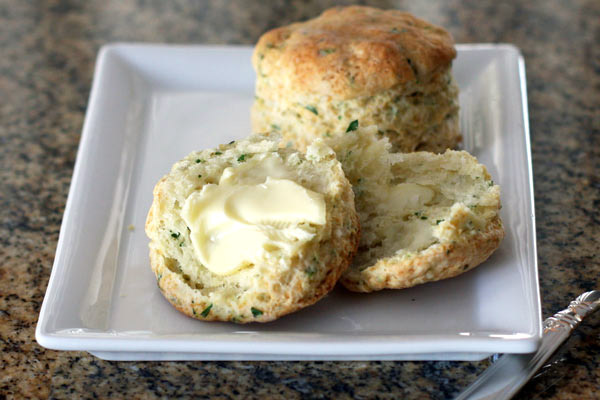 These biscuits are colorful and delicious. They're made with part olive oil and butter along with fresh chopped parsley. Other herbs may be added if you like. A few tablespoons of chopped chives, sage, thyme, or basil would be excellent. Or, add about 1/2 teaspoon of garlic powder along with the dry ingredients. They are excellent biscuits to serve with a hearty stew and they make a fabulous topping for a casserole or pot pie.
Related:
Flaky Buttermilk Biscuits
Prep Time: 12 minutes
Cook Time: 14 minutes
Total Time: 26 minutes
Ingredients:
Instructions:
Preheat the oven to 425 F.
Line a baking sheet with parchment paper or a silicone baking mat or spray the pan lightly with nonstick baking spray.
In a large bowl, combine the flour, baking powder, baking soda, salt, and sugar. Whisk to blend thoroughly.
With a pastry blender or fingers, work the butter into the dry ingredients until the mixture is crumbly and quite fine.
Stir the parsley into the mixture.
Add the olive oil and buttermilk and stir with a fork just until moistened.
Turn the dough out onto a floured surface and knead 3 or 4 times, just until you have a soft but cohesive dough. Don't overwork the dough.
Pat the dough into a circle about 3/4-inch in thickness and cut out with biscuit cutters. Cut straight up and down -- if you twist, the biscuits could rise unevenly.
Arrange the biscuits on the prepared baking sheet; bake for 12 to 16 minutes, until lightly browned.
If desired, brush the tops with some melted butter while they're still hot.
Makes 10 to 14 biscuits, depending on size.
Makes 12 servings.
Site Search