Best Ever Chocolate Chip Cookies
by
, October 22, 2017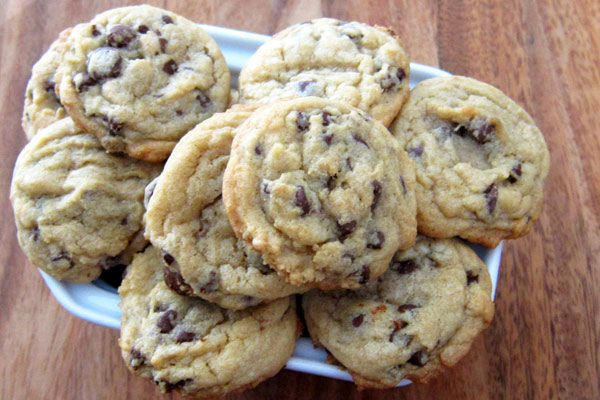 The dough for these amazing chocolate chip cookies is chilled for at least 2 hours, giving them time to develop extra flavor. The cookies are the perfect combination of crisp edge and soft, chewy center. This will be your go-to recipe!
Related:
Coconut and Chocolate Chip Cookies
5-Ingredient Double Chocolate Chip Cookies
Prep Time: 10 minutes
Cook Time: 10 minutes
Total Time: 20 minutes
Ingredients:
Instructions:
In a bowl, combine the flour, cornstarch, baking soda, and salt; stir to blend thoroughly.
In a mixing bowl with an electric mixer, beat the granulated and brown sugars with the butter until light and fluffy. Add the eggs, one at a time, beating well after each addition. Add the vanilla and beat until blended.
With the mixer on low speed, beat in the flour mixture until the dough is moistened. Fold in the chocolate chips. Cover the bowl and refrigerate for at least 2 hours or overnight.
Preheat the oven to 350 F.
Line baking sheets with parchment paper or grease lightly.
Drop dough by tablespoon or cookie scoop onto the prepared baking sheets, leaving about 2 inches between cookies.
Bake for about 10 minutes. The bottoms should be slightly browned, and the tops will still be soft and look slightly underdone. For crispier cookies, bake for about 12 minutes, or until the tops are well browned.
Remove to racks to cool completely. Store the cooled cookies in airtight containers.
Makes about 5 dozen cookies.
Site Search